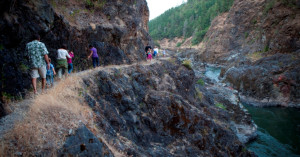 Rogue River hiking trips feature stories of the dueling gold miners, Indian wars, and feuding neighbors all on Oregon's famous Rogue River trail system while staying at lodges each evening!
These hiking adventures marry history and the beauty of the Rogue River canyon with the ease of staying in rustic lodges each evening. Private cabins and bathrooms at each of the lodges assures you the ultimate hiking experience.
Hiking Oregon's Rogue River trail is more than a trek; it is a history lesson. The 43-mile hike lasts for 4 days and 3 nights and winds through some of southern Oregon's richest back country historical and ecological sites. The Rogue River-Siskiyou mountain range hike is not only stunningly beautiful but also home to some incredible moments in history. Hikers have a chance to live history by standing on sites where local Indian battles took place, discover the ruins of homes where neighbors shot and killed each other over gold mining claims, and even walk through old homesteads where home owners would spend winter months snowed-in waiting for food and rations to arrive by wagons coming over the mountains. Even the start of the Rogue River trail is historic. The trailhead is named Grave Creek after the grave of Martha Leland Crowley, a daughter of a pioneer couple. Martha was buried under an oak tree near the creek in 1846.
If the combination of interesting historical sites and beautiful scenery stirs something in your adventurous soul, check out our Rogue River hiking trips. They will not disappoint.