If you're looking for a budget-friendly rod that performs comparable to a high-end stick, the Berkley Lightning Rod is definitely something you need to check out. Here we will give our review of the Berkley Lightning Rod Series.
Riversearch.com is Reader-supported. When you purchase gear through links on our site, we may earn commissions. 
The Berkley Lightning Rod is a versatile all-purpose rod that is available at a very low price compared to other rods of similar performance. It's very budget-friendly, with solid construction. The Lightning Rod is available in many different types.
The Berkley Lightning Rod is Available in:
Spinning Rod
IM6 Spinning Rod
Casting Rod
Shock Spinning Rod
Shock Casting Rod
Ice Combo
Trout Spinning Rod
Trolling Casting Rod
Our Berkley Lighting Rod Review
Construction
Most models of lightning rod are made from a multi-modulus graphite blank construction that gives the rod its lightweight feel and sensitivity. Some of the models have slightly different construction such as the Ice Rod which is a fiberglass blank construction or the Trout Rod which is a composite blank.
Whichever model you choose the construction ends up being durable and sensitive. It feels and performs like a rod that is much more expensive, which makes it great that they are able to deliver such a quality rod at a budget-friendly price.
Real Seat
All of the models have a double locking reel seat except for the shock series which has a suspended reel seat that helps transfer energy. The IM6 spinning rod has a skeletonized reel seat
The reel seats are firmly locked into the blank and feel really strong and secure.
Handle
The handles on these are quite comfortable and give a good amount of control. The spinning and casting models have rubberized cork handles, the shock series has a textured rubber handle, and the trolling rod has an extended handle.
Guides
The guides are stainless steel with aluminum oxide inserts that help the rod resist corrosion and allow for smooth line flow when making long casts.
The IM6 series has chrome-plated SS304 guides which is stronger and more lightweight than the traditional guides.
Shock series has stainless steel guides with titanium oxide inserts to help prevent cracking and grooving
Ice rod has stainless steel guides and inserts
Rod Types
Lightning Rod Spinning Rod
The spinning rod model is one of the most popular because it's a good rod for all-around fishing. This rod is available in lengths as short as 5′ all the way up to 7′ long, and powers ranging from ultra-light to medium-heavy. You can check out the specs of this popular rod in the chart below:

Lightning Rod IM6 Series Spinning Rod
Similar to their spinning model the im6 series is made from IM6 graphite which provides strength, power, durability, and a lightweight and sensitive design. The im6 series rod is currently only available in a 7′ long with the specs in the chart below.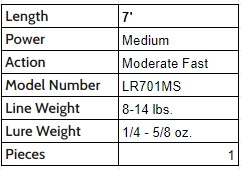 Lightning Rod Casting Rod
The casting rod is another great option if you're a more experienced angler or if you're fishing a technique that needs a baitcaster. These rods are available in lengths of 6′ to 7′ long. They are made from a modulus graphite blank that gives the rod great sensitivity along with stainless steel guides and aluminum oxide inserts.

Lightning Rod Shock Spinning Rod
The shock spinning series is designed specifically for great performance when using braided superlines. When you are using a line with very little stretch there is a lot of strain on your rod, but this rod is designed with extra backbone to be able to handle this stress with ease.

Lightning Rod Shock Casting Rod
This one is similar to the shock spinning model, except it's a casting rod. It performs great when using a zero stretch line to reduce strain on your rod. The rod also features stainless steel guides, aluminum oxide inserts, a split grip, and a textured rubber handle for comfort and control.

Lightning Rod Ice Combo
The ice combo is an incredibly budget-friendly rod and reel setup that handles great for ice fishing. The reel on this one is a smooth 4 bearing reel with an aluminum spool. The rod is fiberglass construction which keeps it lightweight and sensitive.  Everything has cold gear lube to help your rod perform in freezing conditions.
Lighting Rod Trout Spinning Rod
If you're looking specifically for a spinning rod for lighter fishing the trout spinning rod is a great choice. This rod is designed to be used with lighter lines and lighter baits. It's graphite construction which gives the rod enough sensitivity for quick hook sets along with stainless steel guides and aluminum oxide inserts that let the line flow smoothly for a long casting range.
This one is only available in the two lengths of 6'6″ and 7′.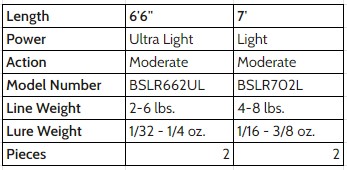 Lighting Rod Trolling Casting Rod
If you're looking for a rod for trolling, their trolling casting model is excellent. It has all the features of their other lighting rods: budget-friendly, sensitive for quick hook setting, with guides and inserts for smooth line flow and casting range.
These ones are available in two longer lengths of 8'6″ and 9″.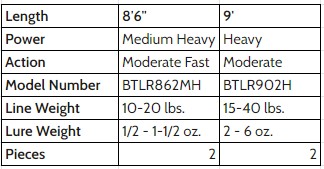 Pros
Budget-friendly
Good sensitivity on all models
A wide selection of rods for different uses
The shock series is great for fishing with braided lines
Durable rods that offer good control
Lightweight
Easy to use
Cons
None of the handles have EVA foam which some anglers prefer
Some of the guides on spinning models can be a little light which might bend if you're fighting fish that are too large
Some models may feel a little bit stiff
Rod Alternatives
Berkley Lightning Rod vs. Cherrywood
Another budget-friendly option that you may want to consider is the Berkley Cherrywood. This rod is made from a graphite composition blank and has chromium guides that are made to be strong and lightweight.
They are both lightweight and sensitive, but the lightning rod seems to be better in this category. We recommend spending the extra for the Lightning Rod, but if you're on a really tight budget the Cherrywood is still a good rod.
Berkley Lightning Rod vs. Ugly Stik GX2
Another alternative that you may consider is the Shakespeare Ugly Stik GX2. This rod is made from a combination of fiberglass and graphite which results in a sensitive, lightweight, and strong blank. It has "ugly tuff" guides, stainless steel inserts, and a fiberglass tip designed to add power and sensitivity to your rod.
Compared to the lightning rod the Ugly Stik performs pretty similarly, but it definitely feels stronger and more durable. The lightning rod on the other hand is the more sensitive rod, so if you're after sensitivity, choose the Berkley.
Lastly, if you're going to fish braided lines, the shock series is the clear winner in terms of performance here.
Berkley Lightning Rod vs. Fenwick Eagle
The Fenwick Eagle is another budget-friendly rod that you may be interested in. It is made from a multi-laminate graphite blank with chrome-plated SS304 guides, and cork handles. It feels pretty similar to the lightning rod because it is both lightweight and sensitive.
The casting distance on the Fenwick Eagle is also pretty good. You can make smooth long casts pretty easily when paired with the right reel. The cork handle is pretty comfortable to—which makes the reel easy to use. Overall we would definitely recommend this as a good alternative.
Where to Buy
If you're interested in buying the lightning rod you can purchase it at many online retailers such as Amazon or many shops have it. Nowadays many Walmarts might carry this rod, otherwise, if there is a sports shop near you they might have it, though the selection they have will never match the selection you can find ordering online.
Final Thoughts
Berkley delivers an incredible rod at a great price point. You don't need a high-end rod that will break the bank to enjoy a good day of fishing. These rods are excellent for both beginners and experts alike. With so many different models available they have an option that will surely suit all your fishing needs.