When you're looking for a high performing monofilament line, the Sufix Tritanium Plus might just be what you need. Here we will take a look at the pros and cons of this fishing line and give our review of the Sufix Tritanium Plus.
Riversearch.com is Reader-supported. When you purchase gear through links on our site, we may earn commissions. 
Sufix Tritanium plus is an advanced anti-abrasion copolymer monofilament line that is designed for enhanced durability compared to standard fishing lines. It's known for having high tensile and knot strength and is designed for improved casting range.
The Tritanium Plus is available in:
Test Lbs: 8, 10, 12, 14, 17, 20, 25, 30, 40, 50, 80, 100
Color options include: Chartreuse, Clear, Dark Green
Spool sizes: various bulk spools
Our Tritanium Plus Review
Casting
This line is made with anti-friction agents which help to improve casting range. Casting distance is one of the strongest points of this line. You can cast a mile from the beach when you need to get over the waves. This is a great line if you're looking for a long casting range.
Diameter
This one has a diameter that is pretty standard to most other monofilament options on the market. You can check out the chart below with the break weight and diameter of each test lb.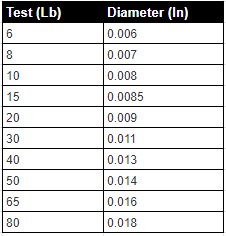 Line Memory
For a mono line this one has pretty low memory. You may run into memory problems as you get into the higher test lb options, but this is pretty standard for most lines.
Knot Strength
Knot strength is another area this line really stands out. A well-tied knot with this fishing line will virtually never break. It has high tensile strength and excellent strength for holding your knots together.
Abrasion-Resistance
The line is designed with an advanced anti-abrasion copolymer formula that makes this one of the toughest fishing lines you are likely to come across. If you're fishing rough areas or toothy predators, the abrasion-resistance on this will keep you from having to worry about line breaks. This is a very durable line.
Sensitivity 
For a mono line this one does have pretty good sensitivity. Some anglers even compare it to braided line in terms of its sensitivity.
Color Options
Chartreuse 
The most popular color is the chartreuse which is a bright neon greenish-yellow color for high visibility. If you're fishing an area where you need to see your line, this is an excellent choice. Some anglers will tie on a lo-vis leader if they need something a little more subtle in the water.
Clear
The clear color is a good all-around option for most fishing situations where you don't really need to see your line. It will blend it to most waters and can help for line shy fish.
Dark Green
The dark green color is good when you're fishing murky, stained, or green-tinted waters and you want something to blend in.
Pros
Long casting distance
Abrasion-resistant
High tensile strength
Great knot strength
Low memory
Cons
Only three color options
Not widely available (many local shops won't have it)
Product Features
Bulk spools available
3 color options
Anti-abrasion copolymer fishing line
Monofilament
Product Faq
Is It Good for Saltwater Fishing?
Yes, Sufix Tritanium Plus is good for saltwater fishing. It is one of the most popular lines for surf fishing due to its long casting range.
How Does it Compare to Sufix Superior?
Sufix Tritanium Plus vs Sufix Super Line does have some key differences. For one, tritanium plus casts way further which is why its better to use from the beach. Superior is better for offshore fishing.
How Much Stretch Does It Have?
Compared to other mono lines this one has a comparable stretch. It's advertised as low stretch, but it has a pretty standard amount.
Where to Buy
Tritanium Plus isn't common in some bait shops so you may have to buy online if you can't find it locally:
Final Thoughts
This line is extremely popular among surf fishing enthusiasts and for good reason. It casts a good distance and its very durable and abrasion resistant. These are the two strongest points of this line, and we're pretty confident that you'll enjoy it too if you are looking for something with those features.
Related Posts
Sufix Siege Review
Sufix 832 Review