When you need a tough and durable abrasion-resistant fishing line with very little stretch, usually you will be looking at a braided line. The Sufix 832 Advanced Superline Braid is one of the best options on the market. Here we will be reviewing this fishing line and giving our honest rating of it.
Riversearch.com is Reader-supported. When you purchase gear through links on our site, we may earn commissions. 
Sufix 832 is a fishing line made from 8 braided fibers. It's known for being extremely tough, abrasion-resistant, having great casting accuracy and distance, all while having a small diameter.
The Sufix 832 is available in:
Test Lbs: 6, 8, 10, 15, 20, 30, 40, 50, 65, 80
Color options include: Camo, Ghost, Hi-Vis Yellow, Lo-Vis Green, Neon Lime, and Coastal Camo
Our Sufix 832 Review
Casting
One of the areas where the Sufix 832 really shines is in its casting distance. The line is really smooth and it slides easily off the reel to cast long distances with ease. It also helps you cast pretty accurately compared to other fishing lines, which is a good thing.
Diameter
Another one of the better things about this line is the small diameter compared to other lines. The fishing line is called "832" because its made of 8 braid fibers woven together 32 times per inch. What you end up with is a smooth and strong small diameter line. You can check out the breaking strength and diameter in the chart below: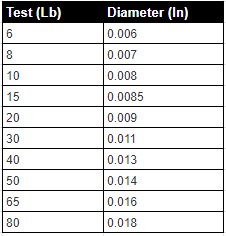 Line Memory
In terms of line memory, this one performs like your standard braid. The lower weights don't really have much memory but as you get to stronger test lbs you do get a little bit of memory.
Knot Strength
Braided line typically has a pretty weak knot strength so this isn't the best in that area.
Abrasion-Resistance
Abrasion-resistance is another strong spot for this line. The GORE performance fiber provides enhanced abrasion-resistant which will help you fish near rough terrain without having to worry about line breaks. This is a good thing if you're trying to fish rocks or other rough areas.
Sensitivity 
This is a very sensitive fishing line which is one of the advantages of a braided line.
Wind Knots
Some anglers do have repeated problems with wind knots with this fishing line, but usually, that is because of poor casting technique. Our best advice would be to learn to cast to reduce wind knots and you shouldn't have any issues.
Color Options
Camo
The camo color option is a mix of greens, yellows, and browns that creates a fishing line designed to blend into stained waters. If you're fishing near brackish waters or saltwater with a  lot of vegetation, this is a great option for a stealthy approach to fishing.
Ghost
The ghost color is a white/clear color that is made to be nearly invisible underwater. This is good for almost all situations where you need a clear line.
Hi-Vis Yellow
Sometimes you need a high visibility fishing line. When your fishing deep waters and you need to detect a fish biting as soon as possible, the hi-vis yellow options is a great choice. This one is a bright yellow color that should help you spot your line with ease.
Lo-Vis Green
The low visibility green color is a good choice if your fishing green-tinted waters and you want your line to blend in. This one is a dark green color.
Neon Lime
The neon line option is a bright green color that is another good choice if you need to see your fishing line. Whether your fishing deep waters or grassy areas and you want to have your line stick out, this one will work.
Coastal Camo
The coastal camo color is a blend of dark blues and light blues that is great for fishing clear blue saltwater. If you're fishing a clear blue sea or ocean this is a great choice.
Pros
Great casting distance
Great casting accuracy
Abrasion-resistant
Small diameter
Six color options
Cons
Braid is the best for knot strength
Some anglers struggle with wind knots
Does have some issues with color fading (which isn't really a big deal)
Product Features
Braided fishing line
8 Fibers (7 HMPE + 1 Gore Performance Fiber)
32 weaves per inch
Water-repellant
Available in 150 to 3500-yard bulk spools
Product Faq
What Color is Best for Inshore Saltwater Fishing?
The best color Sufix 832 for inshore fishing depends on the area. If the water tends to be clear blue, the coastal camo is a good option. Lo-vis green is a good option if the water is green tinted or grassy. Ghost is a good all-around color if you're not sure what to get.
Is it Invisible Under Water? 
This fishing line is not 100% invisible but their camo, ghost, and lo vis colors do blend into the water so it's very hard to detect. They are nearly invisible which should have the same effect.
Is it Good for Baitcasters?
Yes, this is one of the best braids for baitcasters.
Is it Good for Spinning Reels?
Yes, the Sufix 832 absolutely works well for spinning reels.
Does Sufix 832 Sink?
Yes, the Sufix 832 does sink, but it sinks somewhat slowly. So if you're using a fishing lure or technique that relies on a sinking line, this might not work for you.
Where to Buy
If you're looking to purchase the Sufix 832 you can check out these online retailers:
Final Thoughts
Overall this is a pretty good braided line that really stands out in its great casting distance and accuracy, small diameter, and abrasion restistance. With a good amount of color options available for different fishing scenarios, we highly recommend this.
If you're interested in a monofilament line you can check out our Sufix Siege Review and our Sufix Tritanium Plus Review