If you're shopping for a high performance braided fishing line, you may be interested in the Reaction Tackle brand braid. Here we will give our review of the Reaction Tackle High Performance Braided Fishing Line
Riversearch.com is Reader-supported. When you purchase gear through links on our site, we may earn commissions. 
The Reaction Tackle Braided Line is 4 strand line made from the world's strongest fiber: UHMWPE. It is designed to be extra durable with a smooth flowing line for long casting distance.
The Reaction Tackle Braid is available in:
Test Lbs:  10, 15, 20, 25, 30, 40, 50, 64, 80, 100, 120, 150, 200, 250, 300
Color options include: Blue Camouflage, Dark Blue, Gray, Green Camouflage, Hi-Vis Orange, Hi-Vis Yellow, Lo-Vis Grey, Moss Green, Multi-color, No Fade Black, No Fade Hi-Vis Green, No Fade Lo-Vis Green, No Fade Red, Sea Blue, and Timber Brown
Spool sizes: 150 – 1500 Yard Spools
Our Reaction Tackle Braid Review
Diameter
One of the standout areas on this fishing line is the diameter considering how strong the line is. The diameter is smaller than other comparable fishing lines, but still very durable. The lower test pounds are made from 4 strand fibers and the higher 120lb + test lines are made from 8 strand fibers. Here is a chart showing the diameter of each test lb offered: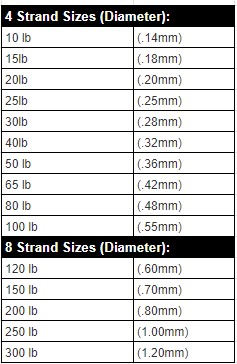 Casting
This line casts incredibly smoothly which helps when you need to reach long ranges. It has excellent casting distance.
Knot Strength
Since this is a braided line you're probably going to have a hard time tying a good knot.
Abrasion-Resistance
This line is highly abrasion-resistant. The UHMWPE fibers are known as some of the strongest fibers in the world which mean you don't have to worry about line snaps when your fishing toothy fish or in rocky areas.
Sensitivity 
Another area this line excels in is its sensitivity. You will be absolutely surprised by how sensitive it is compared to other braided lines. It has zero stretch and is ultra-sensitive which is great for many fishing applications
Color Options
Outside of the performance factors, the color options are another area where this line absolutely stands out. They currently have 15 color options, which means no matter the fishing situation or the waters you are fishing, you can find a color that will work for your needs. They have high visibility colors, low visibility colors, camouflage, and no fade colors if you're worried about line bleeding. Overall an excellent selection.
Pros
Great casting distance
Abrasion-resistant
Zero Stretch
Excellent sensitivity
Durable UHMWPE fibers
15 color options
Cons
Not the best for knots
May be hard to find in stores (only is your best option)
Product Features
Braided fishing line
Thin with smooth casting
Pound test 10 – 30 options
15 Color options
4 strand or 8 strand construction
Alternatives
Reaction Tackle Braid Vs. Powerpro Braid
An alternative line you may have heard about is the PowerPro Spectra Braided Fishing Line. This is a comparable fishing line that's similar in many key features to the Reaction Tackle brand offer. It's smooth, sensitive, abrasion-resistant, and has a good strength to diameter ratio.
Overall it's pretty similar in a lot of the key areas but the only drawbacks are there do tend to be more wind knots if you're not casting correctly.
It also doesn't have quite as many color options, but they do have a clear line if you're looking for something closer to invisible.
Overall, it is still a good alternative though, and we recommend trying them both—because you may end up liking this one better.
Final Thoughts
The Reaction Tackle Braid is a good fishing line. It is very strong, abrasion-resistant, sensitive, and has very little stretch. It also has great casting range as well.
With plenty of options in terms of test pounds and colors, you can find something with their brand for any fishing situation. No matter what fish you are catching or where you are fishing, they have something that will work for you.