The Yo-Zuri Hybrid Fishing Line is a truly unique fluorocarbon/nylon blend line that many anglers swear by.  If you want to learn what's so special about this fishing line, read our full review below.
Riversearch.com is Reader-supported. When you purchase gear through links on our site, we may earn commissions. 
The Yo-Zuri Hybrid Line is technically a monofilament line made of molecularly bonded fluorocarbon and nylon. What you end up with is a fishing line with the benefits of fluorocarbon with flexibility and stretch due to the nylon.
The Yo-Zuri Hybrid is available in 4 different versions
600 Yard Clear Line
275 Yard Clear Line
High Visibility Line
Hybrid Ice Line
Our Yo-Zuri Hybrid Review
Line Memory
One of the best things about this fluorocarbon/nylon blend line is that it has much lower memory than you're average fluorocarbon line. For the lower weights of 6lb to 10lb lines, there is virtually no memory at all. However, as soon as you get to 12lb and higher pound test lines, it has about the same memory as other fluorocarbon lines, which can be a little difficult to deal with. Again if you're using lighter lb test lines so it's really great.
Knot Strength
The knot strength on this line is incredible. They hold up if tied correctly. It's also easy to tie knots with it similar to a standard mono line.
Diameter
The strength to diameter of this fishing line is where this truly begins to stand out from other products. The 12 lb test line breaks at about 20 lbs which makes this one of the strongest lines on the market in terms of strength per diameter.
Abrasion-Resistance
This line can be fished around rocks, fallen trees, debris, shorelines, and other rough terrains without worrying about line breaks. It has better abrasion resistance than most non-braided lines.
Sensitivity 
This is a very sensitive line which can help you greatly when you need to fish by feel. Whether you need a sensitive line for fishing lighter fish species or to get the best action from your topwater lures, spinnerbaits, or crankbaits this line is perfect for the job.
Pros
Almost no line memory for lower lb test options
Great knot strength
Excellent strength-to-diameter ratio
Abrasion-resistance
Ultra sensitive
Does not absorb water
Does not sink
Cheaper than standard fluorocarbon lines
Standard, bulk, or ice fishing line options
Cons
Right around 12lb test line you start to have to deal with line memory
Can feel a little stiff at times
Product Features
Fluorocarbon/nylon blended line
Clear color (invisible) or hi-visibility options
UV resistant
Waterproof
Available in 275 or 600-yard spools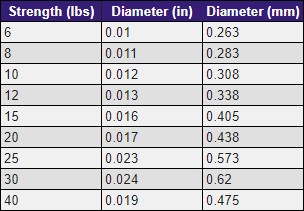 Product Faq
Is it Good for Saltwater?
Yes, Yo Zuri Hybrid is good for both saltwater and freshwater fishing.
What Size Yo-Zuri Hybrid to Use
The size/weight you should use depends on the size of the fish you are catching and the kind of rod you are using. Generally smaller fish use lighter lines, and spinning rods also work best with lighter lines. If you're going after larger fish it's fine to use a heavier line.
Best Knot
The best knot for Yo-Zuri Hybrid Line is the Palomar, clinch, and San Diego jam knots. Some anglers always have their favorite knots but we've found these knots almost never break.
Does it Float?
Yes, Yo-Zuri Hybrid is water-resistant and floats on top of the water.
Is it Good for Rigs?
Yes, this fishing line works well for Texas rigs, Carolina Rigs, and more. The copolymer blend is easier to use for rigs than standard fluoro line.
What is it Best Used For?
This is an extremely versatile line that is great for a variety of uses. You can use it with a spinning reel or casting gear. It works well with a variety of lures such as topwaters, crankbaits, spinnerbaits.
You can also use it for trolling, casting, ultralight fishing, and more. Some anglers also use it as a leader for fly fishing. Their hybrid ice version also works well for tippitts in the wintertime. Overall this is a versatile line and you can use it virtually every way you use a standard fluorocarbon line.
Where to Buy
You can buy this fishing line at many online retailers such as:
Final Thoughts
We highly rate this line. It has many of the benefits of fluorocarbon but with some added advantages due to the nylon blend. The lower weights have almost no memory, knot strengths are great, it's very strong for its diameter, all while being abrasion-resistant and sensitive. Overall this is a great versatile line that is suited for many fishing applications.