CAMPING OUT | FAMILIES | SPECIAL NEEDS | MAKE YOUR RESERVATION

Use this introductory information to help you make sure you find the outfitter best suited to you and your plans. If this is your first outfitted trip, take time to choose the experience that is right for you.
You many want to take notes about your experience with each outfitter starting with your first phone call. Did they seem friendly and helpful? Did you feel they were focused on your needs and questions?
If you are planning for a group, take an important information & intermission — insure that your trip is the right "fit" for everyone. Take a few minutes with yourself, family, friends and/or group to talk over what each member wants from the trip. Ask yourselves:
What are our reasons for doing this?

Do we want to relax, just play, be intensely challenged, or all of the above?

How long do we want to be away?

How much can we spend?

When do we want to go, and how flexible can we be?

What kind of scenery are we looking for?

How much do we want to do ourselves, and how much do we want somebody to do for us?
---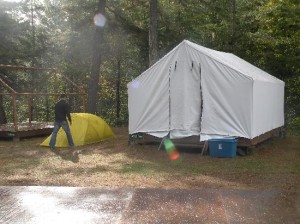 You do want to camp out?
You'll be pleasantly surprised by the comfort of camping in "90's outfitter-style." The ground is still hard, but the sleeping pads are so thick you never notice. The tents may be erected for you; if not, they only take minutes and no experience to set up. The food is fresh, delicious and plentiful–not freeze-dried, dehydrated mystery food. The only difference between your toilet at home and on your trip is the plumbing and the view–the plumbing's better at home, the view's better at camp. In other words, camping is a pretty comfortable, pleasant experience nowadays, and not something to be suffered through in order to see some pretty scenery.
You don't want to camp out?
Most any activity included in this directory can be enjoyed without spending a night outside. Many of the outings can be enjoyed in less than a day; for multiple-day excursions, ask the outfitter about lodge trips or using a base lodge and doing day outings from there. Don't let your dislike of camping keep you away from any outdoor activity.
---
Children as young as three years old can go on some trips. Family-oriented trips have special programs, meals and staff just for children. Most outfitters welcome children on their trips, if the trip is not too challenging and the appropriate equipment is available. It's important to ask the specific outfitters about their orientation towards children, and how often they take children with ages and abilities similar to yours.
How safe is it and is it appropriate for my child?
Thousands of families renew their lives in America's backcountry. A trip with your child has a special meaning for the entire family. Some trips are specially designed for families or youth groups, with special programs, meals and staff just for children.
Outfitters usually establish rafting safety, minimum sizes or ages for their particular trips. It is important to ask the specific outfitter about age and skill requirements concerning children. As with any experience in the natural environment, risks can be managed, but not totally eliminated. You may be asked to sign an acknowledgment of risk or agree to accept the inherent risks of the activity.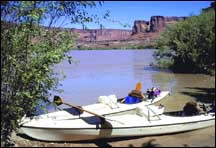 Ask For the Ages Appropriate for the Trip.
The appropriate age for a trip is determined by the length of trip, the physical challenge, the expectations of your family, the equipment you are required to use or wear and other factors. Inquire about these issues when discussing the trip with an outfitter. Take notes about these and other issues when discussing your options with the outfitter.
Do We All Have to Do the Same Activity?
Having the whole family together on a trip can be very rewarding. But if you've got a variety of ages and tastes in your family and not everyone wants to do the same thing, ask about other activities or options. Most outfitters have a variety of outdoor trips or services, or there may be other activities in the area if part of the family wants to do something different.
What are the Physical Requirements?
If you are taking a raft trip, for example, determine if all the participants are required to paddle and if they are expected to be able to swim to shore if they fall out of the raft. Many trips do not require more than normal physical capabilities. But it is wise to understand the greatest amount of physical activity required on the trip to see if it matches your family's capabilities. There are many scenic float trips punctuated by a few ripples or small rapids, followed by big, slow-moving pools of water that are good options for younger children. Horseback rides are popular with children. Determine whether your child will be expected to handle a horse by themselves or if they may ride double with you.
Are Parents Required to Supervise the Children?
You should understand the degree of supervision expected by you during the trip. Are you required to accompany the children and supervise their activities or do trip leaders assume some of this responsibility?
Are There Trips and Activities Designed Especially for Children?
Some outfitters have special family packages or trips with activities to appeal to smaller children. Ask how often similar families take the trip you are inquiring about. How long will your children have to be on the water or on the trail at any one time? Are breaks planned, with plenty of time to explore? Activities like swimming, hiking, watching wildlife and hunting for that special river rock or gemstone are among the activities included on some trips. On almost every trip to a new area you can expect your family to learn something new about the outdoors.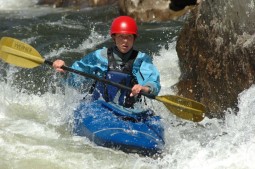 What Will You be Required to Wear and What Temperatures Should You Expect?
Life jackets are required on whitewater trips. Sometimes the availability of an appropriate size life jacket for a child determines the availability of a river trip. Be sure to provide the outfitter with an accurate description of your child's weight and height. You should know whether or not wet suits are ever required for your river trip and, if so, is one available for your child. Helmets may be required for certain activities. It is very important for you to understand in advance what you are required to bring to wear and what is available through the outfitter. Outfitters' brochures are usually very specific about the appropriate wear and equipment you're expected to bring. If you are going on an extended trip, make a checklist of items you need to bring. Remember there may be limitations on how much gear you can take along, so ask about that if it is unclear.
What Food is Provided on the Trip and Does it Match Your Child's Tastes?
Outfitters are renown for providing excellent cuisine. On multi-day trips, you may want to ask about the meals. Be sure to inform the outfitter if there are any special dietary requirements for your family to determine if they are available on the outing.
---
Outfitters provide reasonable accommodations to individuals with particular needs. Some specialize in adaptive programs. If you need accommodation for a disability or are interested in a specially designed trip contact them before you take decisions.

---
After reviewing the literature you received and your notes, call and book your trip. Half or one-day trips can usually be reserved as late as the day before you want to go. Certain trips, especially the more popular ones, fill up fast. Longer trips book up earlier, so plan at least six months ahead. Make sure you understand the cancellation policy!
Some Additional Questions You May Want to Ask:
How experienced is your staff?

Is the trip priced all-inclusive?

Can the outfitter provide for your special dietary needs?

Can they tell you about other guests on your trip? Are there children? Other families?

Are there any age or other restrictions?
---
WHAT TO DO NEXT
Your outfitter will provide you with complete trip information, which could include suggested travel arrangements, packing lists, reading lists, pre-trip fitness tips, where to stay before and after your trip, etc. If you have any questions, whatsoever, about getting ready for your trip, call your outfitter and ask. Not only is it their job to answer your questions, they expect it. And it's everybody's best interest for you to be well prepared and enthusiastic.