Once you embark on your Oregon Rogue River rafting, kayaking or hiking vacation, you begin to understand what a magical place this is–and why Oregon's Rogue River has been protected as a wild and scenic river since 1968. In fact, the Rogue River was one of the original twelve rivers designated under the federal Wild and Scenic Rivers Act. The Wild Rogue Wilderness Act augments the protection of Oregon's Rogue River wild and scenic designation.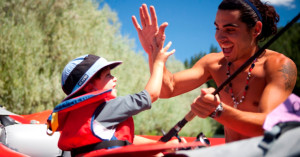 Oregon's pristine Rogue River flows deep into a wooded canyon, a botanically rich and diverse ecosystem, a true paradise. Depending on whether your looking at a north-facing or south-facing slop, the Rogue River canyon is either wet and lush or arid and sparse. Madrone trees with red bark peeling from their smooth trunks cluster on the Rogue's southern exposed banks.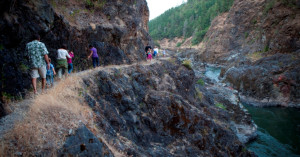 The Rogue River's most coveted Oregon rafting and kayaking run is this wild and scenic stretch beginning at Grave Creek and ending at Foster Bar. This is an Oregon rafting enthusiast's dream, dropping through a series of spine-tingling rapids separated by quiet, even-flowing pools. These moments of quiet respite create an ideal setting for lying back and gazing at the spectacular canyon scenery that slides past your gliding raft or kayak.
Glancing over to the mossy banks of the mighty Oregon Rogue River, you might likely spy a blue heron spiking a tiny fish for dinner, a black bear foraging for berries, an eagle keeping a lookout high in the trees for its next meal, or even a playful family of otters out to spin and twist in the Rogue's waters…making you laugh out loud at their antics.
An Oregon Rogue River rafting adventure captures it all: history, folklore, wildlife, and fantastically eroded geologic features. For many folks, this is the best, most relaxing rafting vacation they have ever experienced…which is why they keep coming back year after year…to stay in touch with the unique character of Oregon's Rogue River rafting and kayaking canyon.