Lake Superior is the largest great lake in North America. The lake shares a border with Canada, Minnesota, Wisconsin, and Michigan. With approximately 31,700 square miles of surface area, it is the largest freshwater lake by surface area in the entire world. With the lake being so large, you can sure bet that it is home to some great fishing opportunities.
In this guide, we will cover the types of fish you can find in Lake Superior, the best places to fish the lake and give you some additional tips to help you catch more fish.
Fish Species in Lake Superior
Lake Superior is home to over 80 different types of fish species. Popular fish to catch in the lake include salmon, lake trout, smallmouth bass, and walleye. But in the lake, you can also fish for white perch, freshwater drum, carp, brown trout, lake sturgeon, brook trout, cisco, muskie, northern pike, rock bass, rainbow trout, largemouth bass, bluegill and much more. Read the full list of fish species found in the lake here.
How to Fish Lake Superior
The most popular ways to access Lake Superior for fishing are boat fishing and shore fishing. There is a wide variety of fishing piers and public areas where you can cast from shore to fish the lake.
If you would rather fish deeper waters in the lake but don't have a boat, you can check out the fishing charters in Two Harbors, Duluth, Silver Bay, Marquette, Grand Marais and other cities surrounding the lake. There are a variety of different charters you can hire for a family-friendly day on the lake.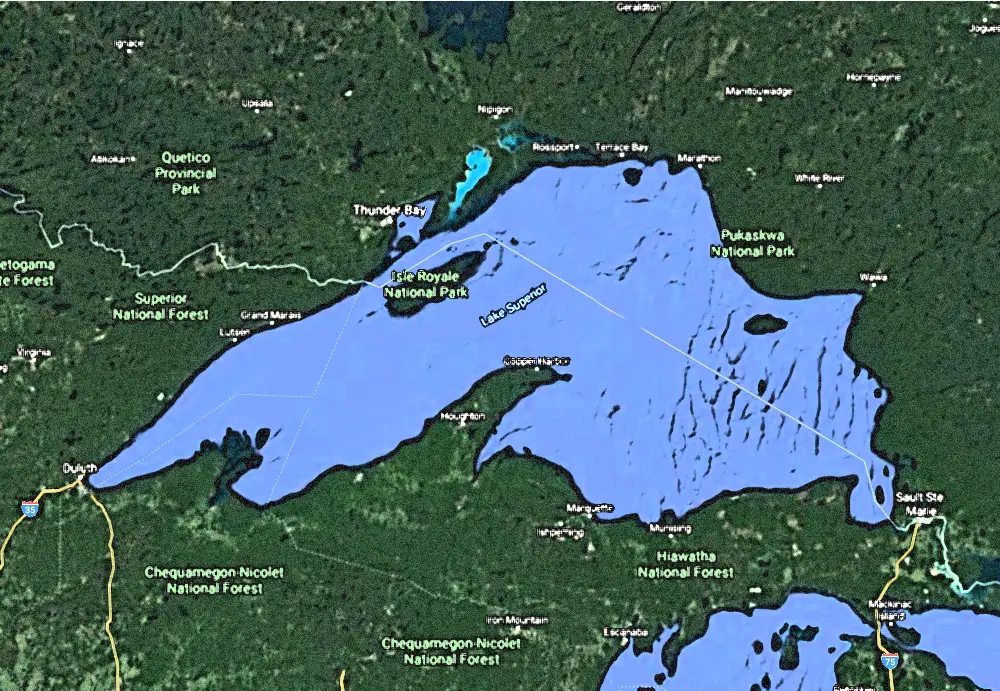 Seasonal Fishing
Fall
In autumn, you can have a lot of success fishing the north shore. Coho salmon, chinook salmon, brook trout, pink salmon, brown trout and the occasional steelhead can be caught entering streams as they make their fall spawning runs. Look near river mouths and tributaries of Lake Superior for great fishing opportunities during this time.
Winter
For many anglers, winter used to mean Kamloops rainbow trout season. As early as October you could catch these fish near stream mouths. By mid-winter fishing them through the ice was fairly common. To the dismay of many anglers, the stocking of Kamloops trout ended to protect the population of steelhead.  That doesn't mean there's no fish biting in winter though. Coho salmon and lake trout will be the best options to fish in the colder months.
Spring
Lake trout, coho salmon, chinook salmon, and steelhead are commonly fished beginning in early spring. For trout, the activity tends to begin once the rivers start to melt. Steelhead usually spawn around mid-April which can be a great time to fish streams near Duluth for these fish.
Summer
When the weather heats up many anglers love to fish along the shore. There are many state parks and beaches surrounding Lake Superior that makes for a great day of shore fishing. Salmon and lake trout are the most popular fish to target, but if you head towards the St. Louis River area you can have a lot of success fishing walleye and northern pike.
If you're after a monster fish, the stable weather of summer presents a great opportunity to fish the deeper waters. This is where you'll find the trophy-sized fish if you're truly aching for a battle.
Best Time to Fish Lake Superior
This fish will bite any time of the season, if you're fishing the right spots. But the best time of day to fish the lake is typically early morning in the first few hours of light. This is when fish will be biting the most as their feeding activity is at its peak.
Lake Superior Fishing Reports
MN DNR
Fishing Booker Report
WI DNR
Ashland Fishing Report
Lake Superior Fishing Forums