White water rafting on the Rangitikei River on New Zealand's North Island is as good as New Zealand rafting gets. The Rangitikei River is a wild, remote, free-flowing river with ample Grade (or Class) 4 and Grade 5 white water, with River Valley Lodge located a short distance downstream from the best of these rapids.
White water rafting at River Valley, one of our top activities, is different from most New Zealand rafting venues in that we typically have the river all to ourselves!
New Zealand Rafting History at River Valley Lodge
During the late 1970's white water rafting was the cutting edge, new adventure activity. Starting in the USA, the pursuit of white water thrills spread to New Zealand.
About 1978, the Rangitikei River Grade 5 white water section was first run in a raft. One or two hardy adventurers had kayaked it previously in fibreglass kayaks, and over a space of several years a metal canoe had clanged it's way down – portaging most of the rapids.
Commercial white water rafting trips started happening in the early 1980s, with River Valley running it's first white water rafting trips in 1982. Brian Megaw, (with his wife Nicola Megaw – owners of River Valley), started guiding in 1986.
Brian has this to say about the change in standards, "Guides back then were keen rather than highly skilled, while early raft design often left a lot to be desired. Guides are now still keen, but standards in every other way are immeasurably higher!"
Grade 5 White Water Rafting on the Rangitikei River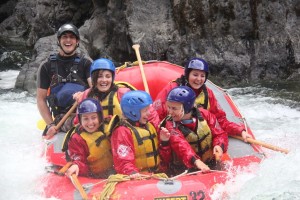 This beautiful gorge section of the Rangitikei River lies upstream from River Valley Lodge.
This is a world class white water rafting run with famous rapids such as Max's Drop, Fulcrum and Foamy. In fact there are 10 major Grade 4-5 rapids on this 12 km run, plus numerous smaller rapids.
It is no accident that this section of river is often labelled one of the best all round half day white water rafting trips in the world.
Happy rafter, Rangitikei River, White water rafting, North Island, New Zealand
What to Bring
Coming rafting with us and want to know what to bring. Simple. All you need is a towel, swimsuit, a little extra money for the cafe, and most important, a fun attitude! We supply the rest.
Rangitikei River Levels
Because the water levels vary so much during the year, (the Rangitikei is a free running river), our format changes with them.
Each evening, once we are confident of the following day's flow, we choose the right size raft to give you the best ride the Rangitikei offers that day.
With international raft manufacturer Incept Marine based in our local town of Taihape, River Valley has often been at the forefront of trialling new designs. Presently we run 3 fleets of boats. Incept 4.6m self bailing rafts for high flows, Incept 3.8m self bailing rafts for medium to low flows, and Incept Inflatable kayaks, (Duckies), for the years when the river gets really low.
Daily Rafting Times
White water trips depart twice daily, with briefing times of 8.30am and between 1.00pm and 1.30pm, (12.30pm in winter). Allow for 3 hours on the water, 5 to 5 1/2 hours total. The season is all year round.