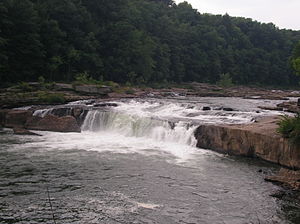 Youghiogheny River that flows for 135 miles (220 km) from West Virginia into Pennsylvania where it joins the Monongahela River at McKeesport.
The Youghiogheny is popular for whitewater canoeing, kayaking and rafting. Three sections of the river, varying in difficulty, are available on a predictable basis for whitewater recreation:
Top Yough, near Swallow Falls State Park in Maryland (Class IV-V)
Upper Yough, from Sang Run to Friendsville, Maryland (Class IV-V)
Middle Yough, from Confluence, Pennsylvania to Ohiopyle (Class II)
Ohiopyle Falls in Ohiopyle State Park: Previously, this spectacular 18-foot (5.5 m) waterfall was legal for kayakers and canoeists to run on only one weekend a year (Class IV), during a race and festival. During August 2010, the Pennsylvania Department of Conservation and Natural Resources announced a pilot program allowing boaters to run the falls during three weeks from Sunday, August 22, 2010, through Sunday, September 12, 2010. The program was successful, so the falls are accessible to whitewater kayakers and canoeists with the same rules as the test program.
Lower Yough, which runs through Ohiopyle State Park from Ohiopyle to Bruner Run (Class III) This section is the busiest whitewater trip east of the Mississippi River, being completed by over 250,000 people each year.
Further downstream, near Connellsville, the river is much slower, without whitewater rapids, and is able to be piloted by personal tubes, kayaks or canoes.
Youghiogheny River is one of the most popular whitewater rafting activities on the East Coast. This river is special for everybody for its long season, reliable water, and varying levels of difficulty. The whole family can enjoy the tame rapids of the Lower Yough and the experienced whitewater enthusiast will love the steep, technical rapids of the Upper Yough.