| | |
| --- | --- |
| Section of river: | Yampa River – Dinosaur National Monument |
| Difficulty: | Class 3 & 4 |
| Length: | 4-5 days |
| Season: | May – June |
| Best rapids: | Tepee, Big Joe, Little Joe, Warm Springs |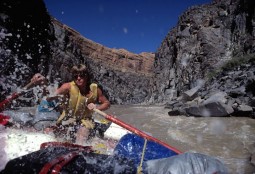 The Yampa is WILD. The last undammed river in the Colorado River system. Through the years the Yampa has defied many attempts to dam its free flow, several by congress, and the most formidable in 1965 by Mother Nature. Just after dinner on June 10th, a flash flood carried tons of rock down Warm Springs draw blocking the river channel. Within twenty-four hours the Yampa took aim and breached the dam, leaving in its wake Warm Springs Rapid, rated among the 10 biggest drops in the country.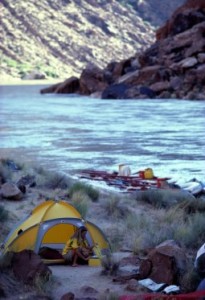 Every May and June this river rises to the occasion and CRANKS with plenty of full-bodied waves from the first day to the last. Like many wild things the Yampa also has a serene side…miles of white tiger-striped walls that drop 2000 feet sheer to the water, side-canyon waterfalls, Ancestral Puebloan rock art, and whispering caves.
The Yampa rafting trip includes 46 miles of the 71-mile trip on the Yampa and the remaining 25 miles on the Green River. Travel through Echo Park, Whirlpool Canyon and Split Mountain Gorge.
If you feel the need for something rare, something wild and free…the Yampa is waiting.