| | |
| --- | --- |
| Section of river: | Tuolumne River (Meral's Pool to Ward's Ferry) |
| Difficulty: | Class 4 |
| Length: | 18 miles; 29 KM |
| Season: | April- September |
| Best rapids: | Rock Garden, Nemesis, Clavey Falls, Gray's Grindstone, Hell's Kitchen |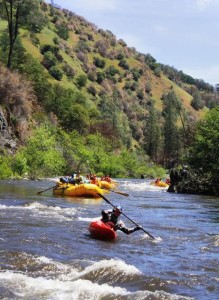 Tumbling though the Sierras from its  headwaters in Yosemite National Park, the Tuolumne River has long been revered as  California's premier river. And for good reason: "The T" is a gem. The steep  gradient makes for superb long rapids such as Nemesis, the Squeeze, Gray's Grindstone and the notorious Clavey Falls (with optional footpath). The roadless isolation and limit of  two guided trips per day ensure a primitive wilderness experience. Exquisite side canyons  cradle clear pools for swimming; short hikes reveal Gold Rush and Miwok Indian history and abundant wildlife. Camping along the Tuolumne's fine sandy beaches provides an exceptional opportunity to refresh your spirit. This is a classic.
The snow-fed headwaters of the Tuolumne originate near Yosemite National Park, then surge through an isolated, spectacular canyon, forming 18 miles of non-stop, Class IV rapids.  Intricate boulder gardens, rushing cascades, and churning holes promise action-packed paddling from put-in to take-out.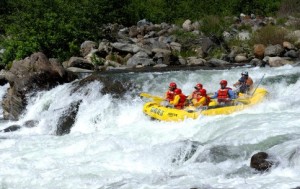 It's a river where many of California's best rafters cut their teeth on the exciting, boulder-strewn rapids.  More than a dozen drops rated Class IV dot the run and there are many unnamed Class III and III+ rapids. You'll run rapids such as Rock Garden and Nemesis before reaching Clavey Falls, the biggest rapid on the 18 mile main Tuolumne section.  Follow up with Gray's Grindstone, Thread the Needle, Hells Kitchen and Pinball, just to name a few.
But it's not just the whitewater that's earned the Tuolumne its distinction as California's premier river trip. The Wild & Scenic Tuolumne River flows through a remote wilderness canyon, completely inaccessible between the put-in at Meral's Pool and the take-out at Ward's Ferry.  Its steep, spring-green and summer-golden hills are forested with oak and pine and flanked by rocky terraces and sandy beaches – a natural habitat for eagles, ring-tailed cats, river otter and other wildlife.  Early season wildflowers blanket the canyon in color: deep blue lupines, brilliant orange California poppies, yellow seep-spring monkeyflowers, and bright pink shooting stars, to name a few.  Tumbling creeks, waterfalls, and glassy pools adorn the river corridor and its side canyons – perfect for hiking, fishing, and swimming during your off-river time.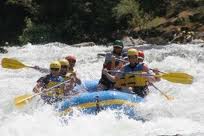 The Tuolumne's flows are dam released, which makes river levels more predictable during the summer season. However, early-season snow melt pushes the river to very high levels that are best for experienced rafters. At these flows, the Tuolumne becomes one of California's most powerful whitewater runs. As the season continues, water levels recede and become appropriate for both experienced rafters and very adventurous beginners.
The Tuolumne's headwaters are high in the rugged Sierra Mountains in Yosemite National Park and the classic trips run through a remote and isolated canyon in the Stanislaus National Forest. No roads or houses intrude upon this magnificent stretch, a true wilderness treat in California. Providing an enchanting and memorable balance to the wild rapids are the idyllic and peaceful side stream sanctuaries of the Clavey River and the North Fork of the Tuolumne. Just two hours from Sacramento and only three hours from San Francisco, the "T" offers overnight trips in a region where extended trips are rare.