| | |
| --- | --- |
| Section of river: | Stanislaus River, North Fork (Sourgrass to Big Trees) |
| Difficulty: | Class 4+ |
| Length: | 6 miles; 10 KM |
| Season: | April- May |
| Best rapids: | Beginners Luck, Convulsion (Blow Your Lunch), Upper & Lower Sequoia Falls |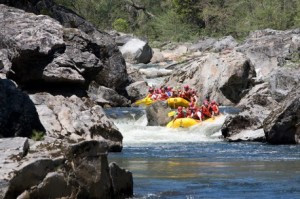 Just two and a half hours from Sacramento and three and a half hours from San Francisco, the North Fork of the Stanislaus is close to many metropolitan areas.  The quaint foothill town of Murphys is just a short half-hour drive from the put-in and the trip finishes in Calaveras Big Trees State Park, home to some of the largest Sequoia trees on the planet.
The North Fork of the Stanislaus River is a unique High Sierra river that thunders through five miles of granite gorges and deep alpine forest glens.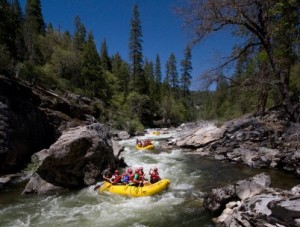 From the put-in at Sourgrass Crossing, which lies at 4000 feet in elevation, to the take-out near the Giant Sequoia groves of Calaveras Big Trees State Park, you'll raft through dark green woodlands of towering pine and fir trees, endless wild azaleas and dogwoods, and old Me-wuk Indian sites.  Best of all, you'll challenge the most technical and intense Class IV whitewater in California.
The "North Stan," with its 70 ft/mi. gradient, cascades over massive drops and holes, creating huge adrenaline-pumping rapids.  The river allows little to no warm-up time before boaters face the biggest drop of on the river, Class IV Beginner's Luck – an immense staircase of drops, descending a total of 15-feet. After that wake-up call, the whitewater keeps coming in tight chutes and boulder-choked passageways like The Claw and Wallet Slot, The Thing and the mighty Sequoia Falls.  This river trip is recommended for paddlers with previous whitewater experience or very aggressive first-time rafters.
The "North Stan" is an early spring time river. Even though there is one dam above this stretch of river, there are no regular releases and the river depends on snowmelt below the dam for its flows. Flows are usually best from mid-April to late-May but occasionally last into June or July. Even though season is limited on the North Stan, avid rafters don't want to miss this classic California run.