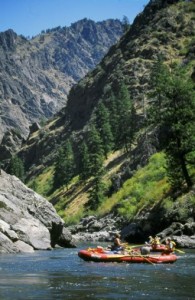 Straddling the borders of Idaho and Oregon, Hells Canyon of the Snake River is the deepest gorge in North America.
According to Nez Perce Indian legend, the mythical figure "coyote" dug Hells Canyon with a big stick to protect the Indians' ancestors in Oregon's Blue Mountains from the "Seven Devils" across the gorge in Idaho.  A rafting adventure through Hells Canyon is a voyage through a land rich in myth and geologic wonder.
Running from south to north, the Snake River in Hells Canyon cuts through some of the most rugged, spectacular landscape on earth.
This is home to some of the biggest whitewater rafting rapids in the American West, created where boulders and rock slides have rolled into the river.  Huge waves, big holes and warm water make this a whitewater wonder!
Between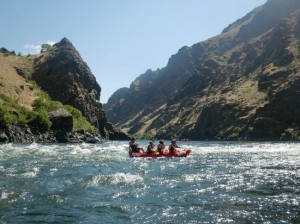 the rapids on the Snake River, there's plenty of time to kick back and marvel at the snow-capped peaks some of which are over a mile above the river.  Mountains of golden grass and pine forests decorate the canyon and wildlife includes soaring eagles, ambling bears or wild mountain goat.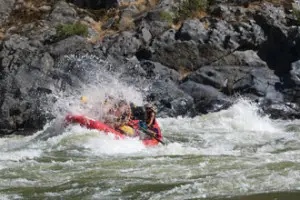 The Snake River offers fantastic fishing for trout, small mouth bass and North America's largest freshwater fish, the white sturgeon.  Rafters can also learn more about the pioneers who homestead here and to see the well-preserved Indian rock art.  Most everyone enjoys swimming in the near 70-degree water.