| | |
| --- | --- |
| Section of river: | Salt River (Upper Salt River Canyon from Globe, AZ on White Mountain Apache Indian Reservation to the Hwy 288 bridge near Roosevelt Reservoir) |
| Difficulty: | Class 1-4 |
| Length: | 1-4 days |
| Season: | March to mid-May |
| Best rapids: | Maytag Chute, Mother Rock, Exhibition, Quartizite Falls, Black Rock, the Maze and Corkscrew |
Like all rivers, the Salt River has unique characteristics. Its outstanding beauty and grandeur are partly a result of its location on the southern edge of the Colorado Plateau.
The Salt River is host to a vast quantity of plants, animals and birdlife that depend on its varied ecosystem to survive and thrive. It offers an outstanding recreational opportunity with its many world class rapids and stunning biological diversity.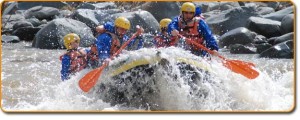 The Salt River Canyon is truly one of the southwest's hidden treasures. The Salt is a class III and IV whitewater river that drops an average 25 feet per mile for over 50 miles through rocky, inaccessible canyons. It flows through oak and juniper woodlands down into striking Lower Sonoran desert vegetation with its giant multi-armed saguaro cactus and profusion of cactus of every description.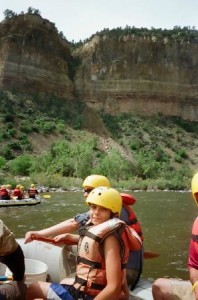 Several side canyons reveal oasis-like microhabitats that are a moist reprieve from the prickly cactus environment. Excellent scenic riverside campsites are abundant and accessible only by raft. Only two commercial groups of twelve people per day are permitted to raft in the Salt Canyon Wilderness (below the Apache reservation), assuring rafters a quality wilderness experience.
Maytag Chute, Mother Rock and Exhibition are the first rapids you will encounter. As you wind your way down the Canyon and enter into the Salt River Canyon Wilderness you will experience rapids such as Quartizite Falls, Black Rock, the Maze and Corkscrew.
The Salt River is located 2 hours northeast of Phoenix and a similar distance north of Tucson, Arizona.