| | |
| --- | --- |
| Section of river: | Boundary Creek to Confluence of the Middle Fork and Main Salmon |
| Difficulty: | Class 4 |
| Length: | 100 miles; 162 KM |
| Season: | May – September |
| Best rapids: | Velvet Falls, Ramshorn, Redside, Rubber, Hancock, Haystack |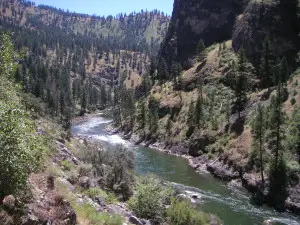 The Middle Fork of the Salmon River is a legendary white water rafting paradise and the most famous wilderness alpine river in North America! The river boasts more than 100 rapids during the 105-mile trip.  The many class III-IV rapids coupled with spectacular canyon beauty make for an unforgettable 5-6 day whitewater rafting trip. This free-flowing river drops 3000 feet through the remote and spectacular River of No Return Wilderness. Natural and untamed, the Middle Fork has been protected by the US Congress as one of America's first Wild and Scenic Rivers.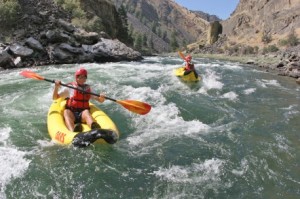 Trips begin at nearly 6000 feet above sea level and the first couple of days flow through an enchanted forest of fir and spruce. The rapids are frequent and challenging. As the river drops in elevation, it widens and opens to vistas of pine-studded mountains. Rafters drift quietly over deep pools of transparent water, home to native cutthroat and rainbow trout. There are a large number of Indian rock paintings and pioneer homesteads along the way, each with stories to tell. On the last two days, the river enters Impassable Canyon where vertical granite cliffs spiral up into the heavens.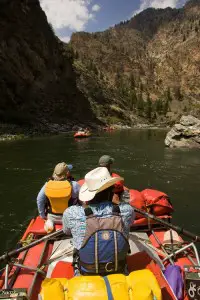 If all this wasn't enough, there are also hot springs, fantastic hiking trails and superlative fishing for native cutthroat trout.  In planning your trip, remember that higher water and more demanding rapids are found in May and June, while July and August offer warmer weather and better fishing.
Of all the rivers that flow through Idaho, perhaps the most spectacular is the Middle Fork of the Wild and Scenic Salmon River. Considered by many to be North America's premier alpine river experience, the Middle Fork Salmon boasts non-stop, Class III-IV whitewater, natural hot springs, and excellent fishing.
And then there's the scenery—soft meadows that roll towards the base of soaring mountains, craggy canyons ribboned with waterfalls, deep green forests and grassy hills dotted with wildflowers…the diversity and beauty of the Middle Fork is stunning.
Over time Idaho's wilderness has remained relatively unchanged through centuries of western expansion. Sheepeater Indians once made their home along the banks of the Middle Fork, and remaining pictographs and other relics recount the story of their pastoral life. Remnants of the Old West days—including mines and prospectors' cabins—also still exist near the river.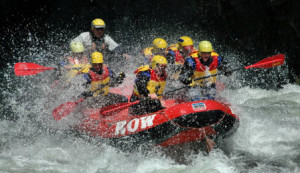 In 1968 with the passage of the National Wild and Scenic Rivers Act, the Middle Fork of the Salmon was recognized as having "unusual scientific, aesthetic and recreational value" and mandating that it "should be allowed to remain in a free-flowing state and natural setting without manmade alteration." It was one of the original eight rivers to be granted this designation, and thankfully, its crowning attributes are preserved to this day.
Although renowned for its whitewater, one of the most notable highlights of the Middle Fork Salmon is its constantly changing terrain. Beginning at 6000 feet in elevation, the Middle Fork is initially a high alpine river. But as it continues, the scenery changes significantly as the river travels through forested hills, open, rolling grasslands, and finally into a narrow, rocky gorge called Impassable Canyon. Along the way, waterfalls and fern-fringed creeks splash unto the river, sandy beaches flank its shores, and natural hot springs offer an indulgent reprieve from running rapids.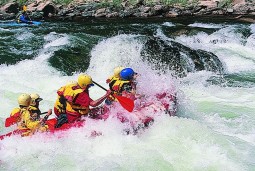 Rated a solid Class IV, the Middle Fork Salmon has more rapids than any similar-length river in the U.S.—over 100 rapids in 100 miles. Rapids such as Velvet Falls, Ramshorn, Redside, Rubber, Hancock and Haystack rapids are sure to please even the most experienced paddlers. Turn by turn, as each tributary surges into the river, the Middle Fork dramatically changes character from a big creek into a thundering river, all the while creating rolling wave trains and thrilling drops.