| | |
| --- | --- |
| Section of river: | Salmon River, Main (Idaho) |
| Difficulty: | Class 3-4 |
| Length: | 5-6 days |
| Season: | June to September |
| Best rapids: | Gunbarrel, Ranier, Devil's Teeth, Salmon Falls, Bailey Falls, Split Rock, Big Mallard, Elk Horn, Jackson, Ludwig, Vinegar & Chittam Creek |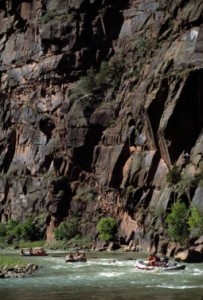 There is a green hole in the middle of Idaho. A spot refreshingly empty on your highway map. A place where pavement never was…and wild rivers still are…raw country, 20,000 square miles of it, and right through the middle runs the Salmon River- The River of No Return.
Cutting the second deepest canyon in North America, the Salmon River is a clear mountain river with pine forests and white sandy beaches. The canyon abounds in deserted homesteads and, of special interest to river travelers, natural hot springs: aah…feels good. One crowd appreciates this roadless country even more than us. Deer, bighorn sheep, moose, birds of prey, elk, bear and the frolicking river otter call this refuge home.
Translucent emerald water, responding to the drop and irregularities of the river bottom, form over forty rapids. That means you have first class whitewater on each day of the trip. Around July the hands-on types can request inflatable kayaks and meet the River of No Return on their own terms.
Some rivers are renowned for their rapids and some are well-known for their scenery. The Main Salmon is most famous for its personality. It is what every good friend should be: welcoming, tolerant, supportive, and just a little unpredictable. Everyone who travels down this magnificent river falls in love with it; with the grand scenery, the fascinating history, the big waves, the soothing hot springs, the gentle hikes, the diverse wildlife, and the giant sandy beaches.
The whitewater is largely of the "pool and drop" variety common to our other rivers, with class II, III, and IV rapids:  Killum Point, Big Mallard, Devil's Teeth, Growler, Dried Meat, and Salmon Falls are just a few.
Cutting due west across the heart of the Idaho back-country and through the center of the Frank Church River of No Return Wilderness Area, (the largest Wilderness Area in the lower 48), the Main Salmon has long been an alluring place.
Native Americans inhabited the canyons for thousands of years and left behind mysterious reminders of their presence; William Clark (of Lewis and Clark) started down the river in 1805, then turned around and looked elsewhere for the fabled Northwest Passage; Polly Bemis, a Chinese immigrant, found solace from a cruel life (as described in A Thousand Pieces of Gold) at her homestead and in her gardens along the river; white settlers, some more successful than others, left a variety of cabins, homesteads, ranches and even a fort ("Buckskin Bill" built a gun tower to protect himself from invading government bureaucrats!). Today the river provides a reflective pathway through a beautiful canyon and a glimpse of American history.