| | |
| --- | --- |
| Section of river: | Owyhee River, Lower |
| Difficulty: | Class 3 |
| Length: | 68 miles; 109 KM |
| Season: | May |
| Best rapids: | Artillery, Whistling Bird, Diversion Dam |
The Wild and Scenic Owyhee River springs in Nevada and flows across the southwest corner of Idahobefore entering the extremely precipitous canyons of southeastern Oregon.  Historians say that the river and nearby town was named in 1826 by Peter Skene Ogden, an explorer for the Hudson Bay Company, after two men in his party who had been killed by hostile American Indians. These men came from the islands of Hawaii, which in those days was spelled phonetically as Owyhee.
The colorful environs of the Owyhee alternate from the white, yellow, brown, and red John Day Formation to glistening black bluffs of basalt, brimming with occasional springs and waterfalls.  Some of the stunning landscapes include the Iron Point Gorge, waterwheels, Sentinel Canyon, Montgomery Gorge, Mahogany Mountains, Weeping Wall, Rustler's Cabin, Bogus Creek Falls and the Chalk Basin/Lambert Rocks.  The same erosive forces that have left the spires and temples have exposed myriad fascinating fossils and have brought agates and other gemstones down to the beaches, creating a rockhound's paradise.  A variety of feathered and furred wildlife, including eagles and egrets, mink and bobcats, pronghorn antelopes, bighorn sheep, and even wild horses inhabit the canyons.
The Lower Owyhee features some of the most spectacular terrain of the entire river system as you journey back in time an estimated 14 million years.  It is said that each mile you travel down this section of the Owyhee you travel back 100,000 years in geological time.  Remnants on ancient civilizations line the banks in the form of petroglyph fields.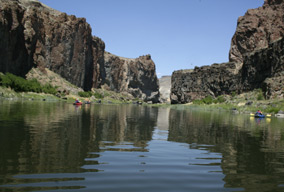 Launching in Rome, Oregon the river passes the confluence of Crooked Creek before reaching the whitewater section.  The Badlands area, with its interesting clay and sandstone formations includes many rapids of various sizes, including Artillery and Whistling Bird. With a difficult hairpin turn against a dramatic cliff face, it's a certain scout and great photo opportunity.  From there the river enters a narrow section of river bounded by precipitous cliffs.
Lambert Rocks and Jackson Creek entice rafters on extended walks up into colorful side canyons and scenic ridge lines.  Small hot springs near the river add another interesting geologic dimension.  Reaching a class IV chute at Diversion Dam the fiver flows past Hole in the Ground Ranch, a historic remnant of the past.  The trip concludes at the Owyhee Reservoir, with a short motorboat tow to Leslie Gulch.