The beauty of the Ottawa River is its size. Big rapids and warm water all summer combine to make the Ottawa Canada's top rafting and kayaking destination. Running through an island paradise of 175 islands, the Ottawa boasts rapids, waterfalls, sandy beaches and spectacular rock formations all in isolated splendor.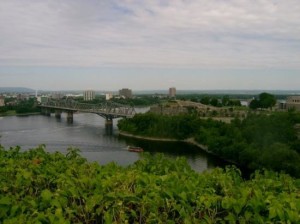 This whitewater archipelago features a variety of paddling challenges with two exciting and very different channels:
The Ottawa's MAIN CHANNEL is a straight forward rock-em, sock-em BIG WATER run with towering waves and giant hydraulics. The Ottawa is the biggest whitewater east of the legendary Colorado River. The tight and technical MIDDLE CHANNEL is a zig and zag run with lots of challenging rapids.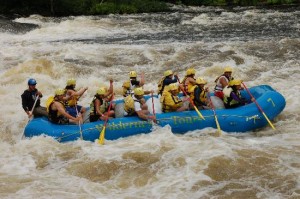 Another remarkable feature of this fantastic river is that the water level is never too high or too low and that its many islands provide both a high adventure experience and a gentle family experience depending on your course. It is unique among rafting and kayaking rivers in North America. That it boasts some of the warmest water in both Canada and the US doesn't hurt either.
Many kayakers regard the Ottawa as one of the best freestyle kayaking rivers in the world. That the Ottawa was chosen as the site of the 2007 World Freestyle Kayaking Championships gives testimony to that claim.