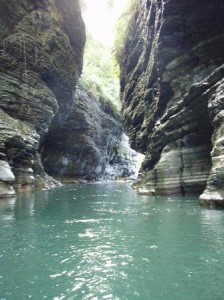 No one would ever have thought about whitewater rafting in the heart of the South Pacific but tucked away on Fiji's big island of Viti Levu, lies one of the most beautiful one-day river trips anywhere.  The Upper Navua River, framed by 150-foot blackened lava and limestone canyon walls that span little more than 15 feet in some places is Fiji's third largest drainage and undoubtedly one of its most scenically spectacular natural wonders.
This warm, 18 kilometer stretch, of class II-III whitewater flows through the country's first and only officially designated Ramsar site or protected wetland of international importance.  This area, known formally as the Upper Navua Conservation Area is home to a host of endemic species consisting of rare bats, birds, iguanas, palms and a newly discovered species of freshwater fish.
In addition to the unique flora and fauna, the river features at least 50 waterfalls, plus many mysterious side canyons and a plethora of trickles that during the rainiest times of the year produce more waterfalls per kilometer than just about anywhere on earth.
If that isn't enough to capture a boaters imagination certainly the fossilized chunks of coral and turtle shell lodged in the canyon walls will capture the imagination of the intrepid, if only to tempt speculation as to the geologic forces that have thrust this island chain to the surface from the depths of the Pacific Ocean.
The end of the journey culminates in a remote Fijian village located approximately 5 kilometers upstream of the confluence with the Wainikoroiluva River home to Fiji's other remote boating gem.
The ride back to civilization affords teasing glimpses of Namosi Valley, a tropical equivalent of our own Yosemite National Park and tantalizing vistas of the turquoise waters and white sand beaches of Beqa Lagoon.
Section(s): Upper Navua River
Difficulty:  Class II – III
Length:  24 Kilometers
Season:  Year round (free flowing)
Best Rapids:  Moce, & Snake
Best Waterfall:  Free Massage
Best Side Creek:  Mosi Mosi