| | |
| --- | --- |
| Section of river: | Nahatlatch River (Francis Lake put-in to REO Rafting Resort) |
| Difficulty: | Class 4+ in high water; Class 3-4 at moderate levels |
| Length: | 11 KM; 7 miles |
| Season: | April to September |
| Best rapids: | Meatgrinder, Rose Garden, Headwall, Twisted Sister, Lose Yer Lunch, Pinball |
What makes the Nahatlatch so addictive and perfect for rafting is the near-continuous, rapid-fire white water.
This section from the Nahatlatch lakes to the Canyon entrance features 25 rapids and an average gradient of 85 feet per mile. Few rivers in North America offer such continuous action, yet are still suitable for first-time rafters.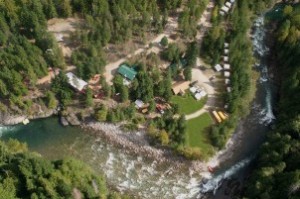 May and June are typically high-water months featuring super-continuous whitewater action, ideal for veteran paddlers and those looking for the best whitewater rafting in Canada.
July and August are prime months as they feature beautiful and hot summer weather and ideal rapids for all ages. July and August are also the best months for surfing waves and holes.
The best time for family trips on the Nahatlatch is July and August when river levels are moderate to low.
The two Class 4+ rapids on the Nahatlatch, Rose Garden and Meatgrinder, can be portaged as the river has good road access before and after these rapids.
Nahatlatch Canyon
| | |
| --- | --- |
| Section of river: | From put-in KM 17 or the REO Resort to private REO canyon take-out |
| Difficulty: | Class 5 in high water; Class 3-4+ at moderate and low levels |
| Length: | 3 KM; 2 miles |
| Season: | Best time to raft is late-July through early-September. |
| Best rapids: | Dogleg, Nozzle, Big Jack, Hump n' Bump; Final Exam |

Description: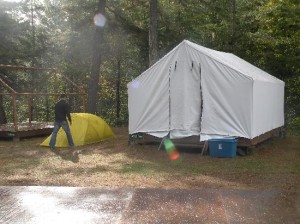 The Canyon section from REO to just above the Fraser River features 12 incredible rapids, including several ledge drops.
The canyon features Class 3-4 rapids and a Class 4+ section that starts at the Nozzle rapid and continues downstream through Big Jack and Hump and Bump. Average gradient in the canyon is 95 feet/mile.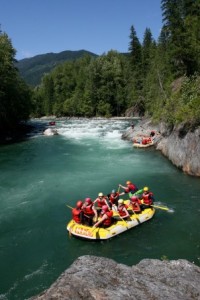 Rafting the Nahatlatch canyon is short, sweet and intense and is a perfect add-on to the upper run. The steep-walled canyon creates an adrenaline-filled ride as each bend in the river reveals a new surprise.
Canyon trips are typically run as a fast blast from the Nahatlatch Lakes right through the canyon and features 37 rapids! Paddle rafts on the canyon typically take 5 to 6 paddlers and 1 professional guide per boat.  One professional safety kayaker is required on every trip for added safety and comfort.