Two hours drive into the interior of Fiji's largest island, Viti Levu, lies one of the most spectacular valleys in the tropics.
Framed by two volcanically inspired mountain chains the Korobasabasaga and the Mendrausucu, Namosi Valley is Fiji's very own version of a tropical Yosemite.
Steep cliffs, seasonal waterfalls, and quaint villages are just the start to this amazing adventure.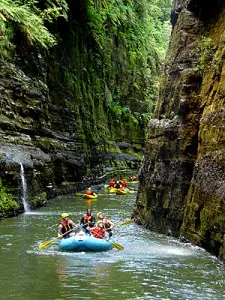 A short visit to the village for some Kava and a request for permission leads boaters to the Mando, where the put-in and on-river preparation for the day's journey on the Wainikoroiluva (Luva) River awaits.
This creeky, class II run is best done in inflatable kayaks, as rafts, except during the rainiest times of the year, have a difficult time negotiating the rocky obstacle courses typical of this adventure.  The river is best known for its many swimming holes, and playful rapids.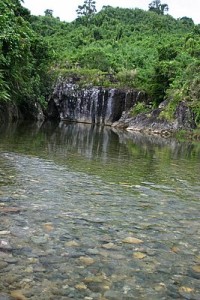 Boaters can expect to glimpse tropical bird life such as the ever colorful yellow breasted musk parrot or the yellow wattled honey eater, a hot spring as well as numerous quaint traditional Fijian villages which when interspersed with the awe inspiring scenic beauty of the valley make for a truly enjoyable and well rounded experience.
Typical activities in addition to kayaking include a lunch in the famed garden grotto where sunlit canyon walls and the acoustically enhanced trickles of water blend in uncommon beauty, or the short hike through a traditional plantation to the clear waters and a refreshing rinse beneath the areas highest waterfall, Wainuta (120 feet).  If kayaking, exploring, swimming and scenic wonder were not enough then the culminating motorized longboat ride from the confluence of the Navua River down through the beautiful lower Navua River Canyon should help top off a great trip.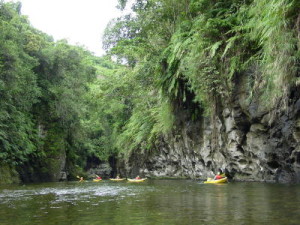 This journey takes visitors deeper into the island interior than any other excursion, provides unparalleled views of Beqa Lagoon, and Namosi Valley, all while kayaking on the Wainikoroiluva river, motorized longboating through the lower Navua Gorge and 2 hours of 4×4 truck riding through some of the most spectacular terrain in the country.  Boating is only the beginning!
Section(s): Upper and Lower Luva (1 & 2 day) + Lower Navua Gorge
Difficulty:  Class II – II+
Length:  Upper Luva (6 K-kayaking) (Lower Luva 5 K-kayaking) (Lower Navua Gorge 14 K –motorized longboat)
Season:  Year round (free flowing)
Best Rapids:  Mando &  #3
Best Waterfall:  Wainuta
Best Side Creek:  Wainadoi
I