| | |
| --- | --- |
| Section of river: | Klinaklini River, Upper |
| Difficulty: | Class 3-5 |
| Length: | 100 miles; 162 KM; 7 days |
| Season: | June – August |
| Best rapids: | Nobody move, Little Drop of Horrors |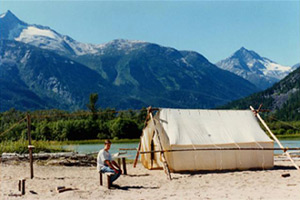 Descended for the first time in 1997 in conjunction with Men's Journal Magazine, the Klinaklini is a river that a mere handful of people have ever rafted.  The river is so remote that native populations did not even inhabit the upper river due to inaccessibility.  This trip requires remarkable logistics to complete the journey as all equipment needs to be flown into the put-in, around an impassible canyon and back out of the river.
The upper Klinaklini River, below the put-in, is privately owned land and requires permission to utilize. Once under way, expect to see some dramatic class V whitewater a few miles from the start.  There are portage routes to the left and right but expect to spend the better part of your day portaging – unless you have a helicopter.  The upper river is a fast, narrow, and intimate corridor with many stretches of big, steep splashy whitewater.
Several days into the trip rafters arrive at an impassible canyon and require a helicopter to transfer downstream or to the western arm of the river.  Here you can spend several glorious days exploring the Klinaklini Glacier, paddling among icebergs and hiking the lateral moraine.
The final descent of the Klinaklini depends a lot on temperature.  If the river is high it can be steady class V whitewater with few opportunities to stop.  If lower (cold days) boaters should expect continuous class III with one critical move around river wide ledge.  Eventually the trip finishes at sea level in Knights Inlet.  Remote as it is, do not leave your gear unsupervised, as this is one of the highest densities of grizzlies in British Columbia.