| | |
| --- | --- |
| Section of river: | Green River,Desolation Canyon |
| Difficulty: | Class 1-3 |
| Length: | 5-6 days |
| Season: | May – August |
| Best rapids: | Steer Ridge, Belknap, Three Fords, and Coal Creek rapids |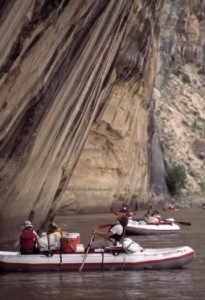 The Green River splits the 10,000 foot high Tavaputs Plateau and forms a gorge deeper than the Grand Canyon. Over one million uninhabited acres surround this holdout of the Old West. Butch Cassidy and the Sundance Kid used these remote canyons one hundred years ago to escape the law. Today, we go just to escape.
Despite the name Desolation Canyon, the river surroundings offer green cottonwood groves, white sand beaches, and clear-water side streams. Your guide's selection of nightly camps will make good use of these features. Off river, abandoned homesteads mark the end of a frontiersman's dream, and prehistoric Indian petroglyphs the end of a civilization.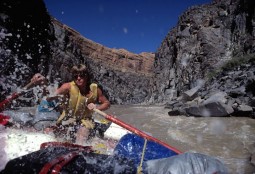 Born in 1987, the child of a side canyon flash flood, Belknap rapid is a formidable addition to the over 60 rapids on this 84-mile trip. With whitewater that builds in intensity each day, Desolation Canyon is an ideal place to occasionally swap your seat in the raft for a thirst quenching ride in an inflatable kayak.