The Mighty Fraser River is a Canadian Heritage River. The largest river in British Columbia and one of the longest (854 miles or 1375 km) in Canada, it is the greatest salmon river in the world.
It begins in Mount Robson Provincial Park, in the shadow of the highest mountain in the Rockies. Its journey ends at the city of Vancouver, where it merges with the Pacific Ocean among vast wetlands that are an important staging and nesting area for shorebirds and waterfowl. Its rapids and canyons, once cursed by Simon Fraser, the first European to travel its tumultuous waters, are now favourites with whitewater enthusiasts.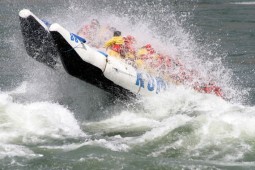 The mighty Fraser is a gigantic river. Flows at Hope BC, still 100 miles from the mouth, average 275,000 cfs. The lower Fraser between Boston Bar and Yale are not rafted until the volume drops below 200,000 cfs, usually by late July or early  August.  Average flows in August and September are around 75,000 to 100,000 cfs.
The river is rafted from Soda Creek to Yale with the most common stretch between Boston Bar and Yale on the lower river. Although there are not many rapids, six or seven depending on the water level, the most famous are Hell's Gate, Little Hell's Gate and China Bar.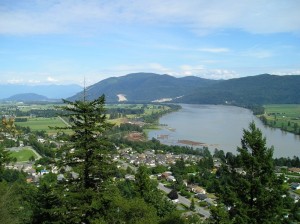 These are huge rapids – not technical but gigantic – that are made up of heart-thumping waves, whirlpools that can swallow a Greyhound bus, and eddy lines powerful enough to flip a boat.
To run the big water of the Fraser large motorized rafts with outriggers are the choice. Nobody paddle rafts the Fraser. With a minimum of 16 tons of floatation, these  craft provide the buoyancy necessary to stay afloat in the large whirlpools, boils and eddy lines and provide lateral stability in the 20 ft. waves.
Raft sizes vary from 22 ft. to 35 ft. depending on the water level. Outriggers are always used on the lower river.