| | |
| --- | --- |
| Section of river: | Colorado River, Westwater Canyon |
| Difficulty: | Class 3-4 |
| Length: | 1-3 days |
| Season: | May through September |
| Best rapids: | Hunter's, Funnel Falls, Surprise, THE BIG ONE: Skull Rapid, Bowling Alley, Sock-it-to-me and Last Chance |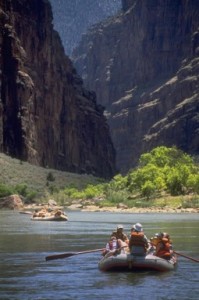 Often called a miniature Grand Canyon, this segment of the Colorado River is the answer for the person who is short on time but wants it all…a wilderness canyon so stunningly beautiful you 'll have no doubt but to leave the world behind. The finale – world class whitewater. Depending upon water level and trip length, you will see from eighteen to fifty miles of the Colorado's finest beaches, side canyons, and campsites.
A century ago pioneer river explorers Thane Galloway and John Wesley Powell developed two distinctive rowing styles. Your guides will employ them to meet the challenge of Westwater's rapids. Galloway's innovative facing style will be used in most of the rapids that demand tight boat placement, including Funnel Falls and Sock-it-to-me. Powell's distinctive style is used for Skull rapid where a powerful thrust is required to thrust through a diagonal wave feeding right into Skull Hole.