| | |
| --- | --- |
| Section of river: | Grand Canyon from Lees Ferry to Diamond Creek |
| Difficulty: | The rapids in the Grand Canyon are rated on a 1-10 scale.  Flat water is 1 while more challenging rapids like Lava Falls or Crystal can be rated 10 at certain water levels.  A 10 rating in the canyon is roughly equivalent to a Class V in the standard river scale. |
| Length: | 225 miles miles; 364 KM |
| Season: | April – October |
| Best rapids: | House Rock, Unkar, Horn Creek, Granite, Hermit, Crystal, Lava Falls |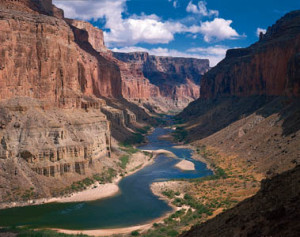 The Grand Canyon is a true natural wonder – a place of profound beauty, history, geology, and ecology.  Each year, visitors from around the world gather at the Canyon's rim to look down into its magnificent vastness, but there's no better way to really see the Canyon than to travel through it, via the Colorado River.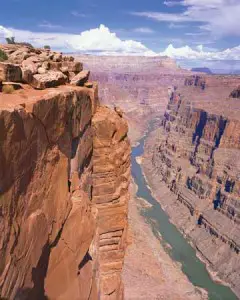 Journeying through the Grand Canyon on a small non-motorized craft or a larger motorized pontoon boat allows travelers to observe subtle and dramatic changes as the canyon walls climb towards the sky with awesome beauty and untold years of geological history.  Terrific side hikes, crystalline creeks and waterfalls, Native American history, and breathtaking scenery enrich this amazing adventure.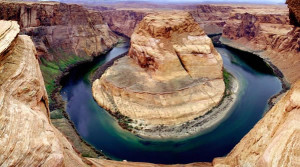 Motorized and non-motorized whitewater rafting trips which launch from Lees Ferry and take-out at Diamond Creek vary greatly in length.
Motor trips usually take a minimum of 7 days to reach Diamond Creek and non-motorized trips can take as long as 18 days, but shorter trip options are often available for those who wish to hike in or out at Phantom Ranch.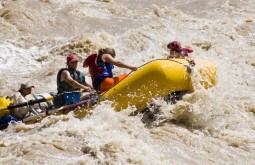 The full canyon experience includes the glories of Marble Canyon, the mysteries of the Inner Gorge, terrific side hikes and Indian ruins, crystalline creeks and waterfalls, cactus gardens and whitewater galore. For nearly three hundred miles, the river has cut a chasm over a mile deep through a rainbow of ancient rock. Nowhere on earth is there a more complete or dramatic geologic storybook.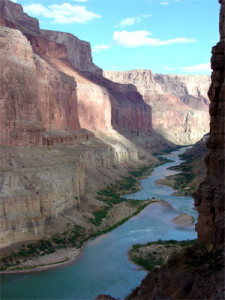 There are 47 rapids rated 5 or higher on the Colorado River through the Grand Canyon.  Whitewater in the Canyon is rated on a scale of 1 – 10 (unlike most western rivers which use the I – VI scale).  A "1" is a small riffle, and a "10" is the most difficult rapid still considered runnable.
The two most noted of the Colorado's rapids, Crystal and Lava Falls, are both rated a 10.  The intensity of all rapids naturally depends on the water level, so readings for low and high water levels may vary slightly.
Each day varies, but on average guests spend 3-6 hours per day on the boats, the rest of the time hiking and exploring side canyons, eating, or just relaxing in camp.  The easiest hikes are no more difficult than negotiating a few yards of beach sand or stepping over a few rocks.  Others may go for several miles over a rough trail, climb steeply up a hot hillside, require the use of both hands over awkward boulders and demand caution as you totter on a narrow trail above a steep cliff.  Guides are happy to help novices with hand and footholds and reassurance.