| | |
| --- | --- |
| Section of river: | Cataract Canyon, Colorado River (Oxbow Reservoir to Driver's Flat) |
| Difficulty: | Rapids in Cataract Canyon are generally rated Class 3 in April, September and October, Class 3+ in August, Class 3+ to 4 in July, and 4 to 5 with peak water usually occurring during the last week of May and the first week of June during maximum snow melt. |
| Length: | 100 miles; 162 KM; 4-6 days |
| Season: | April – October |
| Best rapids: | Big Drop 1, 2 & 3, Brown Betty, Mile-a-long |
Much of America's desert southwest is defined by one river, the Colorado.  Born of snow pack high in the Rocky Mountains, the Colorado River courses its way south and west into the state of Utah, becoming at once a creator and a characteristic of the magnificent scenery of the Colorado Plateau.
The legendary Cataract Canyon of the Colorado cuts and winds through the heart of Utah's Canyonlands National Park.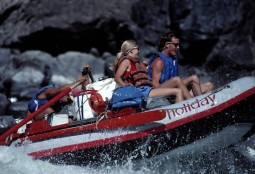 No matter what you're looking for in a vacation, Cataract Canyon has it all: exhilarating whitewater; big-beach camping; phenomenal side-canyon hikes to geologic and historic wonders and astounding views.
Prehistoric Puebloan ruins, petroglyphs and pictographs are common along the river's shores side canyons — inspiring visions of a wilder North America.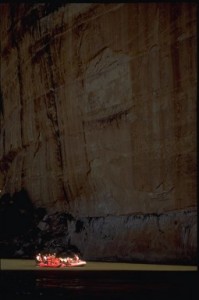 Ancient history is likewise on display in the many fossilized remains embedded in former seabeds. Many species of wild animals are found along the river's edge, drawn to the only major source of water in the area.  Finding shelter in riverside tamarisks, willows and cottonwoods, bighorn sheep, deer and great blue heron can be seen, as well as ring-tailed cat, fox, beaver, and bobcat.
Less famous than the Grand Canyon a few hundred miles downstream, Cataract Canyon is, nonetheless, a premier southwest destination.  The Colorado River is not dammed above Cataract Canyon, and its varying water levels at different times of year provide a whitewater experience for everyone.  In the high water season of May and June, whitewater enthusiasts delight in the huge waves and the famous "Big Drops," which at times can make even the Grand Canyon's Lava and Crystal Rapids seem tame.    Later in the season, from July through October, as the water levels drop, this becomes an outstanding river with less intimidating rapids suitable for all ages and levels of experience.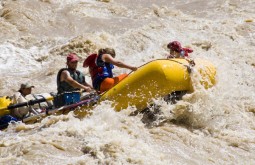 Cataract Canyon through Canyonlands National Park is a journey into a spectacular remote wilderness.  This quality multi-faceted adventure is the ideal balance of serenity, fascination, and exhilaration. Cataract Canyon highlights include:
Leisure rafting to wild class 3-4+ whitewater
Delightful riverside camping
Hikes to Pueblo ruins and hidden wonders
Beautiful canyons similar to the Grand Canyon