| | |
| --- | --- |
| Section of river: | Chamberlain Run |
| Difficulty: | Class 4 |
| Length: | 10 miles; 16 KM |
| Season: | April- June |
| Best rapids: | Chamberlain Falls, Zig-Zag, Achilles Heal, Bogus Thunder, Staircase |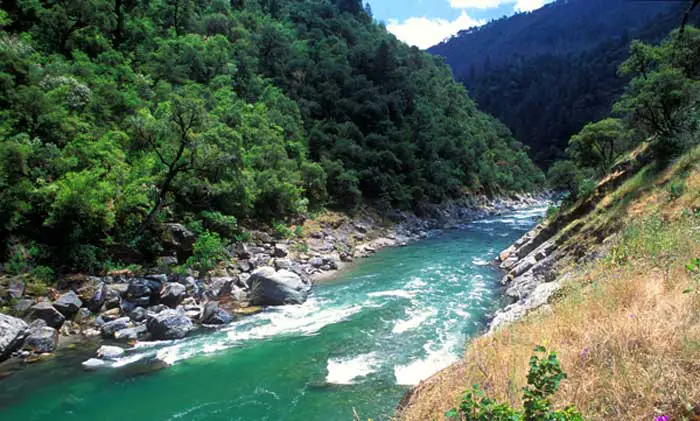 The North Fork holds many distinctions among the three sections of the American River.  It is the most challenging fork of the American – rapid after Class IV rapid delivers a 5-mile run packed with nearly non-stop, white-knuckling whitewater, followed by a stretch of more gentle Class II-III rapids.
Intricate boulder gardens, rushing falls, and staircase drops promise intense paddling and plenty of adrenaline-inspiring thrills.
The North Fork of the American is the only fork of the American that is not dammed and its wild nature shows.  From April through June, snowmelt from the Sierra Nevada thunders with a vengeance through the towering canyon of the North Fork – a beautiful gorge with 2000-foot cliffs, blankets of green grass, colorful wildflowers and black oak and pine forests.  By late June, the river greatly changes character, becoming a calmer mountain stream – so don't miss this excellent early-season whitewater run.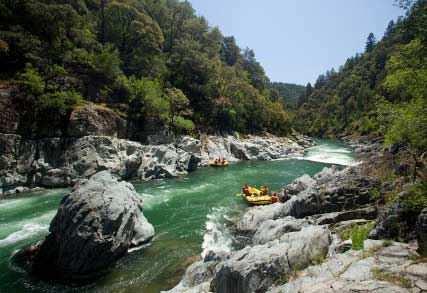 The Chamberlain Run section starts out plunging through a narrow gorge.  Big rapids follow in quick succession for most of the next five miles.  At moderate and high flows eddies become scarce and hard to catch, and boats must negotiate some big holes – especially at "Chamberlain Falls" and "Staircase" rapids.  Below "Staircase" the river eases a bit, but a couple of unnamed class III rapids may surprise the unwary boater.