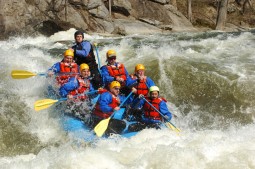 Zoar Outdoor is New England's Outdoor Adventure Resort, offering whitewater rafting, canoeing, kayaking, fly fishing, biking, and rock climbing on the Deerfield River in Western Massachusetts.
Our friendly professional staff, comfortable base camp with on-site camping and lodging, and top-notch equipment ensure that your adventure will be memorable.  From half-day family raft trips to week-long whitewater kayak clinics we can match your schedule and your desire for adventure.
Whitewater rafting is a great way to share a fun-filled day outdoors with your friends and family.  From April through October we offer a variety of raft trips throughout Southern New England for all levels of adventure.
Our springtime raft trips include the class III+ Millers River in Massachusetts, the class IV Bulls Bridge section of the Housatonic River in Connecticut, the class III+ West River in Vermont and the class III-IV Concord River just north of Boston, Massachusetts.
Whitewater rafting on the Deerfield River in the Northern Berkshires is available all summer long due to dam-controlled water releases.  Located only 2 hours from Boston and 3 ½ hours from New York, whitewater rafting at Zoar Outdoor is an easy day trip or a great overnight getaway.
Our kayak school is a leader in whitewater instruction, and our facilities make us the adventure resort of choice for the northeast.  We create great paddling experiences for adults, kids, and families that emphasize the joy of kayaking or canoeing as a lifetime pursuit.  Through games and an activity-based approach we make learning fun and we stress success in all aspects of our program by following a gradual skills progression that lets you set the pace.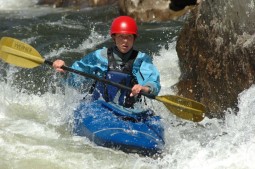 Our Outfitters Shop is the Northeast's premier whitewater outlet featuring over 100 of the hottest designs in stock.  Our expert staff can help you select a boat from Dagger, Wavesport, Perception, Pyranha, Esquif, Mad River, Liquid Logic, Riot, or Necky.  But the greatest part of shopping at The Outfitters Shop is that you can try any boat before you buy it on the Deerfield River right in front of our shop.
Our facilities are first rate.  We are based in a 1750's colonial house on 80 acres on the west end of the small river town of Charlemont, Massachusetts.  The Deerfield River is just 100 yards away and our private riverfront access means many days end right at our base with hot showers and comfortable camping or lodging accommodations.
Our kitchen prepares trip lunches that include sliced meats and cheeses, homemade rolls, seasonal soups and breads, chips, and Joel's famous homemade salsa.
At the end of a day on the water or rock, we have succeeded if we have given you an adventure you'll never forget and started you on your way to becoming a part of our larger outdoor community.