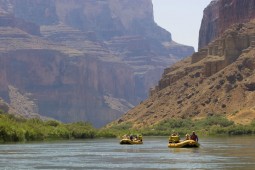 Outdoors Unlimited has been a Grand Canyon river outfitter for over 38 years. We pride ourselves on the quality of the experience we offer. We started river running because of the adventure and the love of the places we visited. This is just as true now as it was when we started. As new rafting techniques and technology have advanced, we have worked hard to be at the forefront of the industry's evolution. The art of creating a quality river trip and facilitating a memorable experience, we believe, begins and ends with caring about what we do.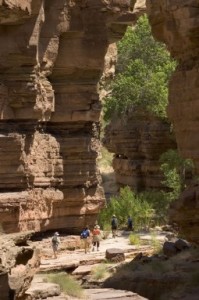 Grand Canyon Rafting Guides
Outdoors Unlimited starts by hiring some of the best guides in the business. Many of our guides have been with us for 10 or more years. We hire people that care about the river, the "Canyon", and the experience we offer to our clients. We feel that our staff and crew can make the difference in your trip. So, come and share this incredible place and wonderful adventure with us. If you are going to take the trip of your dreams only once, run with the finest.
Rafting the Grand Canyon
An Outdoors Unlimited river trip on the Colorado River through Grand Canyon traverses all 240 miles of flowing river to Lake Mead. It offers a phenomenal variety of vistas, camps, waterfalls, rapids, side canyons, archaeological ruins, and other attraction sites to enjoy and explore. Allowing time to visit these places is the essence of a Grand Canyon trip. Our paddle and oar powered trips take a minimum of 13 days to experience the total canyon as we float quietly with the flow of the current.The distance each trip option covers is constant, the time we take is the variable. We believe longer is better but offer you the option of 5 or 6 days on the upper trip; 8 or 9 days on the lower trip; and
13 or 15 days on the full trip.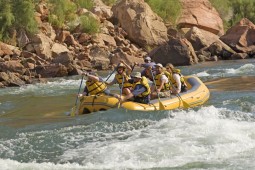 "The camping was pristine, the food was excellent. What most impressed us about this trip, however, were the guides. What an outstanding group. All different, all professional." — Bob H., Temecula, CA
The Boats
Outdoors Unlimited uses only silent non-motorized self-bailing rafts on our trips. Traveling by oar powered craft is the classic method of running the river, dating back to the first explorations by John Wesley Powell in 1869.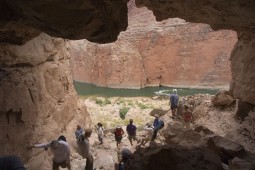 Our oar powered rafts carry up to five guests plus the guide. Relaxation is the signature of the oar boat, allowing more time to socialize, look around and take photographs while still offering an exciting ride through the rapids. Available as an option, paddle boating is the ultimate way for you to participate. It is an exhilarating ride in one of the smallest boats to run the river. Paddling can be physically demanding and is not for everyone. But for those who want to be in the action, paddling is the best!