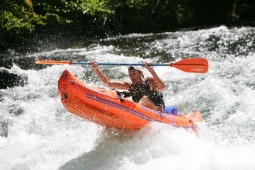 Orange Torpedo Trips, "America's Unique River Adventure" specializes in white water rafting and inflatable kayaking in Northern California, Oregon, Idaho, and the Grand Canyon. Thanks to our expert guides, Orange Torpedo Trips has been taking people down the rivers of the majestic Northwest for over 35 years, paddling over 100,000 river miles each year. Our distinctive style of "on-the-water" guiding allows all skill levels to experience the river and beautiful scenery in an unmatched personalized adventure.

Orange Torpedo Trips lets you choose how you would like to experience the outdoors, from a personalized kayak with on-the-water instruction, to a paddled or oared raft that allows for maximum relaxation. Our unique trip style delivers the togetherness of family and friends, the exhilaration of an individual adventure, and the relaxation of a scenic vacation.  With multiple trip options, we can cater to all vacation and rafting needs, and we always carry top quality equipment and safety gear.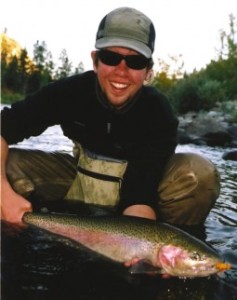 Our trips also offer memorable off-the-water experiences — from camping on white sand beaches under the stars while our guides cook remarkable meals to comfortable rustic lodges with access to hiking, fishing, and beautiful scenery at your fingertips.  Guests often comment that they didn't expect their enjoyment of their off-the-water time to rival the rafting.  We take that as a huge compliment to our guides and the overall culture of Orange Torpedo Trips.  We invite you and your members to join our family of guides and repeat guests.
You can also experience great fly fishing excursions with our partner Angling Exploration Group. The AEG Team has created world wide rejuvenation in the sport of Fly Fishing. With exciting video of remote excursions, AEG showcases the landing of incredible trophies and sparking a forgotten love in young and old to step outside and remember the excitement of fly fishing.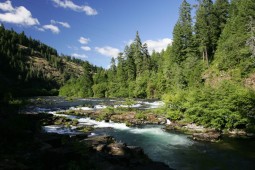 Now you can become part of the adventure.  After traveling the world seeking the rare and beautiful, AEG has set up shop on the famous "Wild and Scenic" Rogue River in Southern Oregon.  Join them in traversing down the west's most famous rivers in the hunt for the large Salmon and Steelhead that cruise these Oregon waters.
Call us to find out more about trip options on the "Wild & Scenic" Rogue River, "Wild & Scenic" North Umpqua River as well as setting up excursions to Alaska, Patagonia, and beyond.