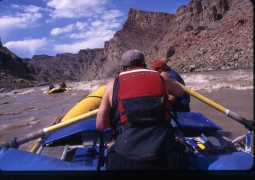 Sheri Griffith River Expeditions is the premier whitewater rafting outfitter offering "A Touch of Class" to our entire river rafting adventures on the Green and Colorado Rivers since 1971.
Join us for a Colorado River rafting adventure that will recharge your life, strengthen bonds of friendship, and create memories to last a lifetime.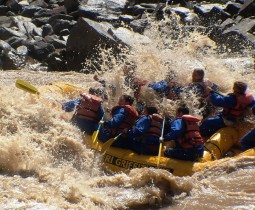 DISCOVER: The excellence that is offered only on a Sheri Griffith Expeditions trip. From the first call to last meal the SGE team is the friendliest, most competent, and fun group of professional travel associates in the business.
EXPERIENCE: The service and safety that comes from 36 years of showing guests the wonders of whitewater rafting. Through extensive training and workshops, our company's knowledge is passed on throughout our team. You will see this quality in our equipment, food, and staff on each trip.
RELAX: In the comfort of our cozy chairs, sit-down dining, and fabulous meals. Your vacation is our priority: whether you are a novice camper or a great outdoorsman, our goal is to help each guest enjoy the wonders of the river.
We provide "A Touch Of Class" to every trip. What does this mean? It means it is our mission to make you comfortable in the outdoors. We provide enough civilization for almost anyone to be comfortable on our river rafting trips. Great meals, cozy sleeping bags, comfortable chairs, and professional service-oriented guides create a relaxing and comfortable camp setting, complimenting the relaxed pace of the day's river rafting activities.