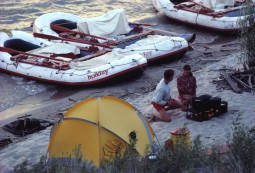 For 41 years, Holiday Expeditions has provided trips to the West's most spectacular places. We offer incomparable white water river rafting trips in Utah, Colorado, Idaho on the Colorado River, Green River, Yampa River, San Juan River, Salmon River, and Snake River. Family rafting trips, Grand Canyon rafting, mountain bike trips, guest ranch trips, women's trips, Baja whale watching, and sea kayaking round out our special offerings. Seventy percent of our guests are repeat or referred to us by guests who've enjoyed Holiday's impeccable service.
A Day on the River
Sunrise dawns quietly on the river. The whitewater ripples by your campsite, silent but for the dull roar coming from the rapid down around the bend. The aroma of "Cowboy Coffee", bacon and flapjacks hangs invitingly on the air, coaxing you out of your tent, eager to spend another day whitewater rafting.
It's a scene Dee and Sue Holladay have relived countless times during the three decades they've spent river rafting the Green, Colorado, Yampa, San Juan, and Salmon.
And it's a scene they've treated thousands of guests to with the help of some of the best whitewater rafting guides in the business. Rafting guides, who not only know every bend and rapid in the whitewater rivers they run, but who are also skilled in backcountry first aid and riverside culinary wizardry.


Unforgettable Vacations
For decades, Holiday's expertise has been sought by people from all walks of life: family groups that strengthen their bonds while bucking the whitewater; business groups looking for a team building experience; singles looking for a relaxing party; and those who hit mid-life in full stride and want to get back to the outdoors to learn more about geology, natural history and themselves. Today, they continue to offer a variety of whitewater rafting trips founded on excellent service, a reverence for the environment, and a love of being out in the open and sharing it with others.
Whether your interest lies in raging whitewater rafting, mountain biking through stunning alpine terrain, horseback riding through aspen groves, learning more about the natural and human history of the West, or combining several adventures into one vacation, Holiday Expeditions can satisfy your hunger.