ARTA has been in business since 1963 and offers trips in California, Oregon, Idaho, Utah and Colorado. We are well-known for our friendly guides, informal style, and commitment to the environment. Each trip has a casual, family feeling to it that makes for a very comfortable and enjoyable experience.
As one of the west's original outfitters, we offer trips on a wide selection of rivers including the American, Tuolumne, Rogue, Middle Fork Salmon, Main Salmon, Selway, Green, and Yampa. Also, We conduct one of the nation's premier guide training programs. Our guests tend to be those who appreciate nature and who are looking for a less complicated and more traditional wilderness experience (no linen or hot tubs, here!)
The hallmark of an ARTA trip is the guides who combine their passion for the wilderness with a strong sense of discovery and growth, (as well as an abundance of spontaneity and fun). The trips are structured, but not regimented and the high level of staff experience allows each trip to be unique and to develop its own personality based on the interests and experience level of the trip members. Our guides feel as though they are sharing the trip with you, not leading you down the river; more like dinner at a friend's house than supper at a five-star restaurant.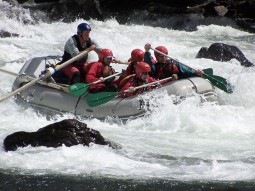 ARTA is also unique in that it is a non-profit corporation, and was founded to expose and educate people about our nation's rivers and canyons. We donate all of our surplus revenues to conservation groups who are working to protect rivers and wilderness. While the trips have an element of interpretation and purpose, largely because of the knowledge of the guides, they are not pedantic or academic; the environmental message is background music to an overall fun and friendly main event.