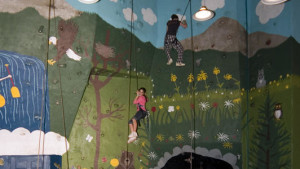 Adventure Bound provides exciting and challenging outdoor programs based out of an alcohol-free resort designed for kids.  Youth activities include Maine's best whitewater rafting on the Kennebec and Dead rivers, rock climbing, ropes courses for team building, and multi-day rafting trips. We are THE choice for youth groups including schools, scouts, summer camps, churches, and other kid-oriented organizations looking for adventure in the outdoors.
It's all for the KIDS!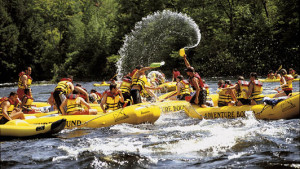 Adventure Bound specializes in providing high quality, outdoor experiences to schools, church groups, scouting groups, summer camps, and other youth oriented organizations.  Our staff is carefully selected based on personality and then specifically trained to work with our young guests.  They enthusiastically share in the excitement while accompanying you on your adventures in whitewater rafting, rock climbing, adventure challenge ropes course activities, and multi-day canoe/raft camping trips.
Outstanding Resort Facilities
Our one-of-a-kind, alcohol-free resort offers plenty to do after the trip, indoors and out.  Our Resort Complex features an indoor climbing wall, heated swimming pool, 24-person hot tub, canoes and kayaks, beach volleyball, soccer, softball, basketball, horseshoes, movie theater, game room, lounge, cafeteria, and overnight accommodations.
Our wilderness resort is specially designed to accommodate large and small groups of young people and offers a host of activities and amenities that assure your group of the finest outdoor youth program available anywhere.  Families with children will find Adventure Bound to be the perfect getaway.  When it comes to young people, being active means everything and Adventure Bound has it all. Guests will enjoy the full use of all the resorts facilities while staying with Adventure Bound.