The whitewater classification system is intended to be a gauge of difficulty. Many outfitters classify their trips as "family class", "adventure class" etc. their brochures or website will offer a description of their chosen system. When reading an outfitters brochure each river or section should have a classification associated with it. If you have any questions, ask your outfitter! River and rapid classifications run from I (being the easiest) to VI (considered unrunnable). Below you will find an adapted classification table.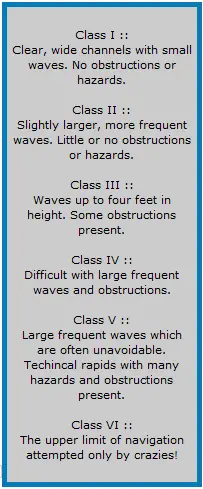 Class 01 – Skill Level: None
No maneuvering required. Small rough areas.
Class 02 – Skill Level: Basic Paddling
Some rocks. Some rough water and small drops. Maneuvering needed.
Class 03 – Skill Level: Experienced Paddling
Whitewater. Small to medium waves, up to 5ft drop. Nothing serious. Might require significant maneuvering.
Class 04 – Skill Level: Considerable Whitewater Experience
Whitewater. Large rocks and large waves. A great drop. Sharp maneuvers needed.
Class 05 – Skill Level: Sophisticated Whitewater Experience
Whitewater. Huge waves, rocks. Hazardous drop. Requires precise maneuvering skills.
Class 06 – Skill Level: Superior Expert
Whitewater. A lot of BIG waves and BIG rocks. Hazardous all the way. Huge drops. Rapids of this class are equally dangerous for everyone, even experts operating state-of-the-art water vehicles.
Warning! Class Six Is Potentially Life Threatening.
Save